The Oxford dictionary defines 'Vivid' as something that produces powerful feelings, something that is intensely deep and bright. The Volvik Vivid Golf Ball lives up to this definition, and we promise that you will never miss the sight of these on the golf course.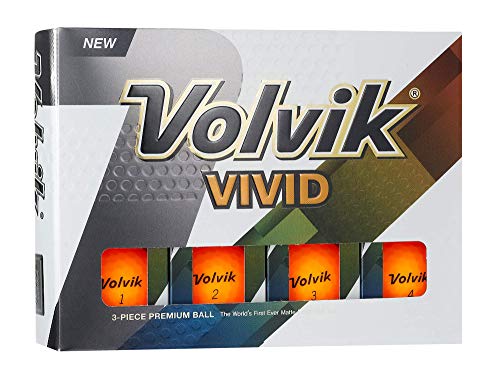 The Volvik golf balls have been around since 2010, with its head office located in South Korea. The ball is ideally designed for golfers that have slower swing speeds of about 70-90 mph. With lower swing speed, the ball spin rate reduces, resulting in an overall increase in distance and accuracy.
We have reviewed some features of this ball to let you know about its functionality.
High visible matte color
The ball is designed with a highly visible and bright matte finish to help a golfer track it down quickly.
Ionomer Cover
The outer cover is made of 322 dimples to reduce drag and improve ball flight. The ball design looks as if it doesn't contain any dimples, but the ball has one of the best aerodynamic functionalities in the market.
Sturdiness
With a low compression rating of 75 and 3-piece construction, the ball ensures reliability and durability on the golf course.
Resilient Power Core
The highly resilient core gives a soft feel and good distance off the tee, which results in better aerodynamic consistency.
Pros
Cons
Amateur golfers will find the ball useful on the greens with their long irons and drivers

 The core has been redesigned to provide maximum distance to mid and high-handicappers

 You get a more mature sound on impact, not the usual 'Ping' sound made by the Ping Irons

 Since the ball has a low spin, it may be difficult to hit for golfers that struggle with low ball flight

With other colored balls on the rise, it becomes difficult to distinguish it from the others on the rough

 The matte finish of the ball makes the dimples look unpronounced, with some mistaking the green variation of the ball as a Tennis ball
The popularity of the ball rose when Bubba Watson started using it and removed any doubts from those who considered them as fancy-looking balls.
With a high trajectory on well-played shots, the Volvik Vivid is worth a try. If you have already tried these, let me know about your experience in the comments section below.