When you select a good quality golf ball, you make your club happy. You know, the opposite is also true. You want a ball that when you hit with your club gives you maximum distance.
Not only that can barely cover a yard. Another consideration you want to pay attention to is the core because it determines the control you have on your ball. A softer ball, as opposed to a firm one, will give you better control and you'll feel you're in control of your game.
Though the five-piece and four-piece golf balls host all the latest developments that enhance performance, you don't always have to buy one (they're more expensive) before you can enjoy your game.
If you've decided to go with either the Bridgestone E6 or E12, then you're on the right track. They're not awfully expensive but are good enough especially if you're just trying to up your game and don't want to spend too much.
Related: Golf Ball Compression vs Swing Speed Chart
So, in this article, I put both balls head to head so you can see how they differ and come to a conclusion on which one might be suitable for you. Let's get into the article:
---
Bridgestone E6 vs E12: Reviews & Comparison
Before going into individual reviews of each ball, you may want to know about the major difference between the two and which one to go for. If you can afford it, go for the Bridgestone E12 golf balls.
It's a newer and an updated version of the E6. This means there are lots of improvements and newer technology that comes with the E12 that you won't find on the E6.
The mantle layer introduced in the E12 between the core and cover makes for better distance when playing without sacrificing the feel. If you place more emphasis on softness and affordability, you may fancy the E6 though.
Still, the E12 wins when you consider their performance in general.
Bridgestone Golf e12 Soft Golf Balls
Nowadays, there are many brands and models of golf balls, so it can be difficult to get good golf balls that suit your game.
Therefore, in this section of the article, we are going to talk about one of the most popular golf balls, the Bridgestone Golf e12 Soft Golf Balls. The Bridgestone e12 Soft set is available in green, red, white, and yellow.
Also, they have an attractive look and wonderful features that make them an excellent choice for any player. There are a few other things that'll make these balls endearing to any golfer. I'll touch on the major ones:

Durability
The e12 soft has impressive durability. In an 18-hole comparison, these balls last much longer and stay in better condition.
Besides, the colors do not fade, so green, red or yellow balls can be found more easily in the grass.
Distance
These balls are three-piece balls that have a built-in active acceleration blanket, this increases the thrust, and the ball can reach a faster initial speed and have a higher trajectory which enhances the distance it can reach.
Control
As the name suggests, the e12 is really soft, which offers better control at all shot lengths. This is possible because the added layer allows for a softer core.
Feel
It has a softer feel and wonderful feedback, especially on the greens. Even when launching and chipping, the e12 soft provides excellent feedback. However, they do not offer the same feel as premium golf balls.
Design
Bridgestone has developed an impressive design where they used a high-performance polymeric material with added surfactant. Sounds great, doesn't it? And in the field, you can feel the great performance that this unique design offers.
Ball flight
These softballs have a consistent and steady flight thanks to the delta wing dimple pattern.
This pattern decreases drag and allows the balls to have a smoother airflow while in flight, ensuring that they have a steady flight and can reach their destination without any problems.
Click Here to Buy the E12 on Amazon
---
Bridgestone E6 Soft Golf Balls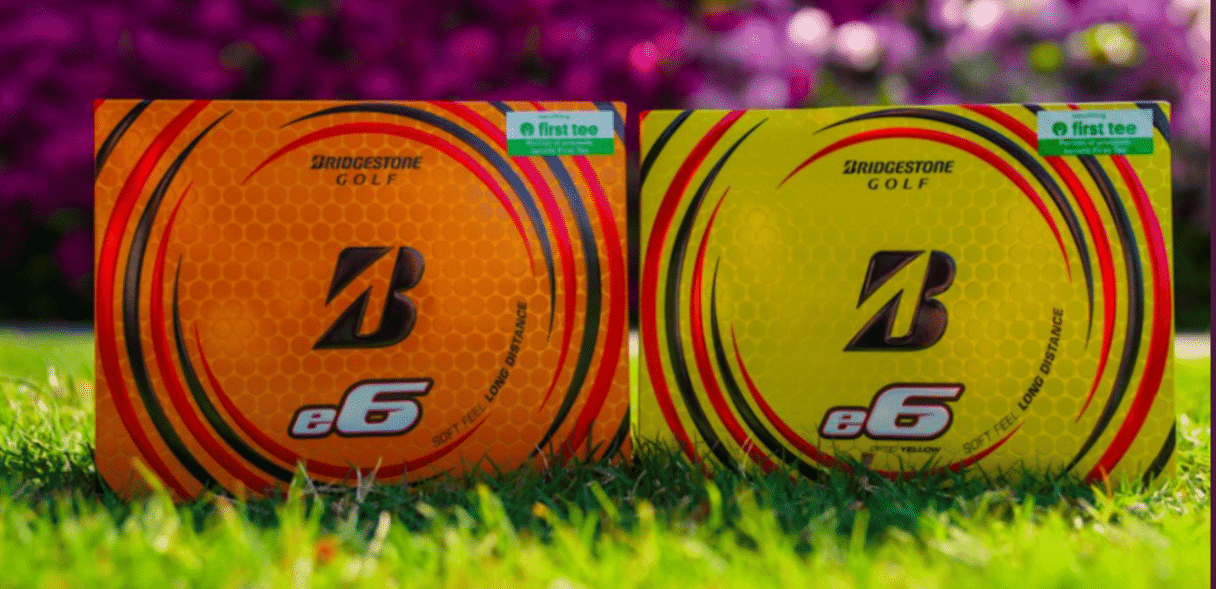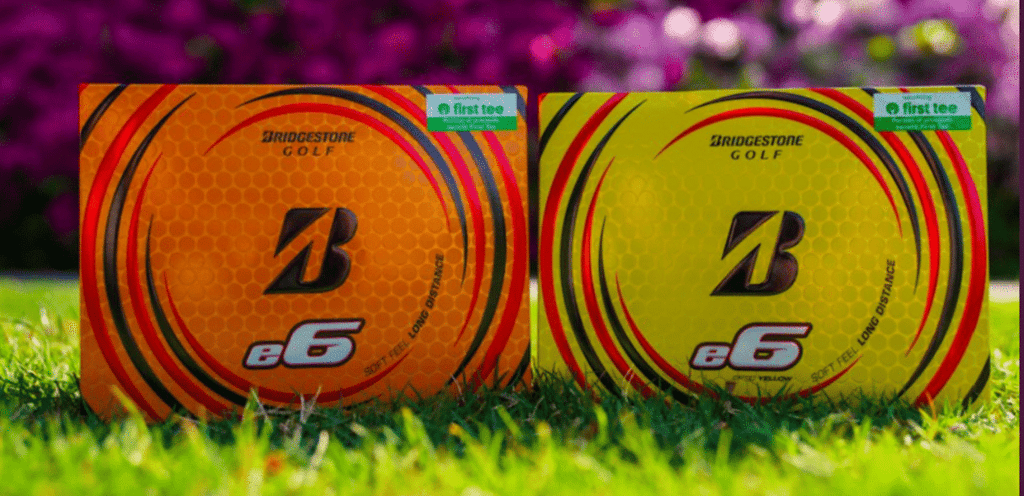 The Bridgestone balls are 2-piece golf balls but are some of the straightest balls you'll find on the market.
They might not have spectacularly lesser spin like the expensive ones, however, a lot of users praise them for their less side spin, which helps in keeping shots in play.
If you're an average golfer, you probably are looking for a better flight and feel on low compression golf balls. If that's the case, you want to check out these golf balls.
Bridgestone also makes provision for female golfers. The ordinary E6 golf balls are targeted at men while another range "E6 Lady" are designed for women on the golf course.
So, if you're looking for lower-price golf balls for mid-high handicappers with slower speeds, these balls are for you. Here are the details for you if you're interested in these balls:
Feel
It's a soft 2-piece golf ball, with a low-compression feel, suitably designed for those who prefer the feel over all other things. That's why in the E6, the manufacturer removed the mantle layer found in the E12 golf balls.
Design
Compared to the E12, the compression on the ball will be pegged at 44-compression, which will make it the lowest compression in the series.
In addition to the softer feel, the design on the E6 golf ball will be towards a straighter flight. As a result, you get less spin with off-center strikes and indirect impact if you're an average golfer.
Price
The price of the E6 brings delight. Most golfers reading this article are going to be average golfers (of course, you could be a pro, in which case this ball will not be very good for you) who play with low-compression, two-piece golf balls.
So, it's likely that the price will be the biggest deciding factor. Fortunately, this is a cheap one, with a price closer to the Srixon Q Star Tour golf balls.
Spin
There is going to be significantly lower hook and slice spin on the E6 balls, thanks to a softer construction. Therefore, average players can get improved distance and better ball flight.
However, high swing speed elite golfers might find the ball doesn't perform to their level because of the absence of multi-layered urethane cover.
Distance
The Bridgestone Golf E6 is filled with long iron spin and low driver so you can get straighter distance without compromising green-side performance. The golf balls include the Delta Dimple design that ensures improved air resistance so that your swing can go longer
Durability
Though they're up in their own quality, the shell on the ball is slightly mushy so your wedges may scrape the surface easily. But for the price and the plenty backspin, this can easily be overlooked. And the high ball speed and soft feel, it's a no-brainer.
Click Here to Check the E6 on Amazon
---
Conclusion
There are so many nice things about these balls to like. Sometimes though, you can't get all the goodness for yourself. You have to make a trade-off. Choosing one is still easy, provided you know what you're looking for.
Both balls are definitely good. In fact, there isn't much difference between them other than distance and feel. For those looking for an affordable version, E6 definitely is the ball. However, if you want a newer model with improved technology, it's no doubt the E12.