You're standing in the pro shop, it's 10 minutes to tee off time and you are short on balls for the round again. As your eyes scan over the different brands of golf balls sitting on the counter, you start to scratch your head and whisper to yourself, "what does this gibberish all mean?!" – "..low compression..", "..high compression..", "soft/hard", and all you really want to know is which one works and what will it cost me?
Not to worry, I'm here to help! Today we will look at the golf ball compression chart from a basic level to the advanced, while addressing your burning questions:
"What is golf ball compression?"
"Does golf ball compression matter?"
"How can golf ball compression effect my game?"
And finally... "what's the best compression for me?"
But first, I find it best to see something while trying to understand it, here is what it looks like when an actual golf ball compresses on impact as it hits a steel plate at 150 mph (taken at 40,000 frames / second):
What is Golf Ball Compression?
Simple Physics 101
It's when the impact of a golf ball into an object forces the ball to transform in shape. This transformation in shape is when the energy transfers from the energy transfers from the impacting object to the ball. Furthermore, the compression ensures this transformation of this energy is a smooth transition from object to ball, so that the ball does not explode on impact.
Compressed History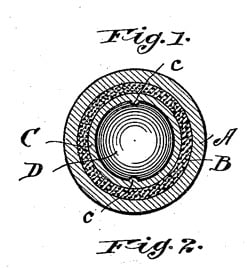 This technology dates back to the turn of the 19th century when inventors like William Taylor added the now iconic dimple pattern to a Haskell ball in 1905. This addition

maximized the ball's lift while minimizing the drag. 1906 saw T. Saunders launch a pneumatic ball which contained a compressed air core. But unbeknownst at the time, the ball would not handle the hot day's sun very well and expanded to the point of explosion in heat.
While inventors dabbled with other metal cores it was finally in 1972 that Spalding launched its two piece ball which improved on the Haskell design and brought in the age of compression and the golf ball compression chart.

Does Golf Ball Compression Matter?
Well, to put it simply, it's all about distance and control. On one end of the scale, you have the low compression ball which will create distance and on the golf ball compression chart are rated between 70-80. On the other end, you have the high compression balls which require striking the ball harder to achieve the same distance, however, they offer the golfer more control over their shot. These balls are normally rated 90+ on that same golf ball compression chart.
How Can Golf Ball Compression Effect My Game?
Quality of Golfer
This really depends on where you place your current game. For beginner to intermediate golfers, a lower compression ball can give you more yardage and thereby shorten the length of the course. Whereas your higher quality golfer is more about precision hitting and will lean towards a hardball to achieve that.
Swing Speed
When golfers become serious about their swing, they look to the golf ball compression chart to match their swing speed to the correct compression. A faster swing speed requires a higher compression which will mean the ball will not compress as much and giving the golfer more control over the ball. A slower swing speed golfer should lean towards a lower compression to maximize distance and take advantage of the spring like effect off the club.

Conditions on the Day
Ever accidentally hit a rock with your club? And that numb feeling you get on a cold day when you do? Ouch! Well, hitting a higher compression ball on a super cold day may come close to that. It is advisable to lean towards a lower compression ball if it looks likely to be a chilly day out on the course. Our friend Richard poised this to AskGolfGuru and here's what he had to say about it:
What's the Best Compression for me on the Golf Ball Compression Chart?
Brand Wars
As always, it depends on who you talk to or who you buy your golf balls from in regards to what the manufacturers' state about the impact of ball compression on performance. Brands like Wilson or Bridgestone manufacture balls that are custom tailored to a golfer's skill level and swing speed.
In fact most manufacturers follow suite… except Titleist. As the world's leading ball maker, they hold some sway in the industry and their party line is that in regards to compression, we just shouldn't believe the hype, for either pro or amateur. What matters, according to Titleist, is the greenside responsiveness, trajectory, backspin, and accuracy, although many argue these are more marketing terms then alternative theories. Why don't we take a look for ourselves?
Our Recommended Golf Ball Compression Chart
| | | | |
| --- | --- | --- | --- |
| Budget | Soft Compression | Medium Compression | Hard Compression |
| Bargain Hunter | Callaway Supersoft Golf Balls | Callaway 2015 Warbird Golf Balls | Srixon Z-Star Golf Balls |
| Maximize Performance | Titleist Pro V1 | TaylorMade Tour Preferred X Golf Balls | Bridgestone Tour B330-RX Golf Balls |
The Softies Breakdown
I received these balls as a present 3 months ago and I was amazed at the softeness of the ball. From my first drive to now, I have not come across a softer ball than this one for the price you pay. You will even notice the difference in putting too. For this price, these balls are a bargain for the player in need of a softer ball.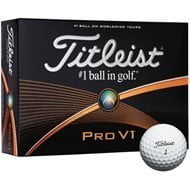 The ball that every other ball compares itself too and the ball that every golfer would love to see in a Christmas stocking. Titleist is the leader in golf ball manufacturing and much of that credit lies with this ball. Every year they improve it and sadly every year I keep buying it. If you haven't tried this ball at least once, please do yourself a favor and try it now, you can thank me later.
The All Rounders (Medium Compression Balls)
This ball is recommended for the amateur beginner to mid-range player looking for some more distance on their game at a great price. This ball is harder than the two aforementioned balls but I guess you don't call them 'Warbirds' for nothing. When using this ball, I was driving an extra 10-15 yards, although you will notice a hard feel on the greens. But at the price they are, this is an easy investment to help you outdrive your buddies on the course, on every hole.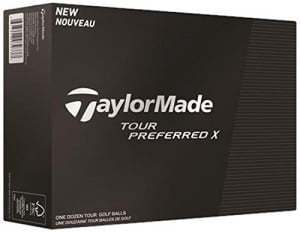 My choice here was between the Srixon XV Tour Yellow, the Taylormade Lethals and these TaylorMade Tour Preferred. After trying all three, the TaylorMade Preferred ball was a clear winner as they were more robust ball while maintaining a softer feel on the greens. This is a complete all-rounder for the golfer who is at a handicap of between 5-15.
High Compression/Distance Balls
Many people have told me these balls are like the Titlest Pro V1 but for half the price and better yardage. They have very good distance on them while not being too hard around the greens and give you a good feel of the club face. A good ball to have in the bag as backup at a very neat price.
I've said this to friends and colleagues from many years, the B330 RX is the best overall performance and distance ball on the market. This ball gives you excellent distance off the tee and on the fairway while having a cosy feel on the green, with a consistent spin rate to boot. A little more expensive, but the regular golfer will see the investment tenfold out on the course.
There you have it, a small insight into the world of golf ball compression technology as well as our recommended golf ball compression chart for you to quickly choose the best ball for your game. We would love to hear about your favorite compression ball (and why) in the comments below.