Callaway is one of the premium golf companies around that has continued to innovate and bring new designs to golf equipment so you and I can get the best experience without breaking the bank.
When they release new golf equipment, everyone wants to know what they're about. Although Supersoft has been around for a while, the ERC is a new offering that is poking golfers' inquisitiveness everywhere.
If you're one of these, then you're on the right page.
When Callaway released the ERC and Supersoft golf balls, they're meant to serve a wide range of players. And to provide great greenside control, faster ball speeds, and an excellent feel.
With both balls offering very similar features, it's natural to become confused with which one to choose.
Well, there are a few distinctive traits on both balls. I'll try to point out some of these unique traits so you can figure out which of them is right for you. Before that, let's look at some of the features of each ball:
---
Callaway ERC Soft vs Chrome Soft: Reviews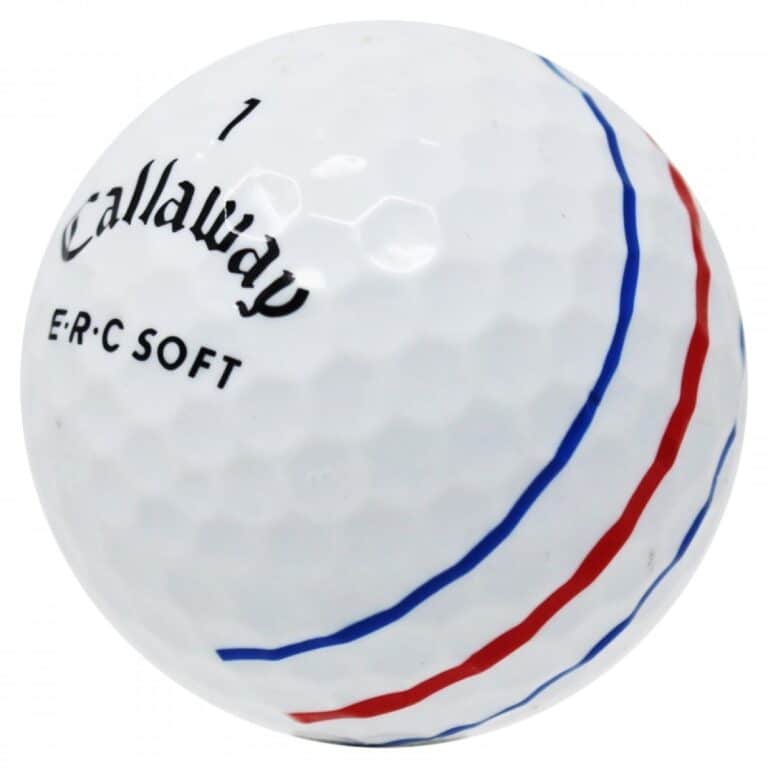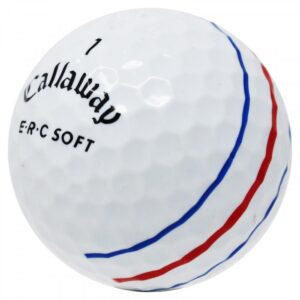 Whether you are a beginner or a mid-handicapper to enjoy golf to the fullest, you should have a high-quality golf ball, which allows you to improve your game.
Currently, we can find many golf balls in the market, but none like the Callaway ERC Soft Golf Balls. Below, we'll review its features.
Durability
The ERC Soft Golf Balls are durable and resistant. They are a 3-piece ball with a graphene-infused core. This material is one of the toughest and most flexible materials used in golf balls.
Besides, the cover is made of polybutadiene, which is a blend of ionomer and urethane. This blend offers better performance on the greens and more durability.
Soft and Speed
They have a high-speed cover, which with the graphene-infused core provides a soft feel. But at the same time is stiff enough to achieve enough speed needed to reach longer distances and lower spin.
Control
Premium golf balls are usually made with urethane because it offers better control, but it is an expensive material, which makes them costly.
However, balls with ionomer coverings provide very similar performance to urethane balls at a more affordable price.
For this reason, the Callaway ERC Soft golf ball is an excellent choice, given that thanks to its hybrid cover, it offers outstanding control and at a reasonable price.
Visibility
Callaway has innovated in this model by adding advanced alignment from Triple Track Technology. It is a visual pattern that allows a better view of the ball.
This Triple Track technology is so effective that it is the same pattern used on the airport runways to guide the pilots.
In fact, given the way the three lines are positioned, they help your mind to align better with the golf ball than if it had only one line. Besides, the blue and red lines allow you to track them easily and avoid losing them.
Read More: Mizuno MP vs JPX (A Battle Between the Mizuno MP-20 and JPX900)
---
Callaway Chrome Soft Golf Ball Review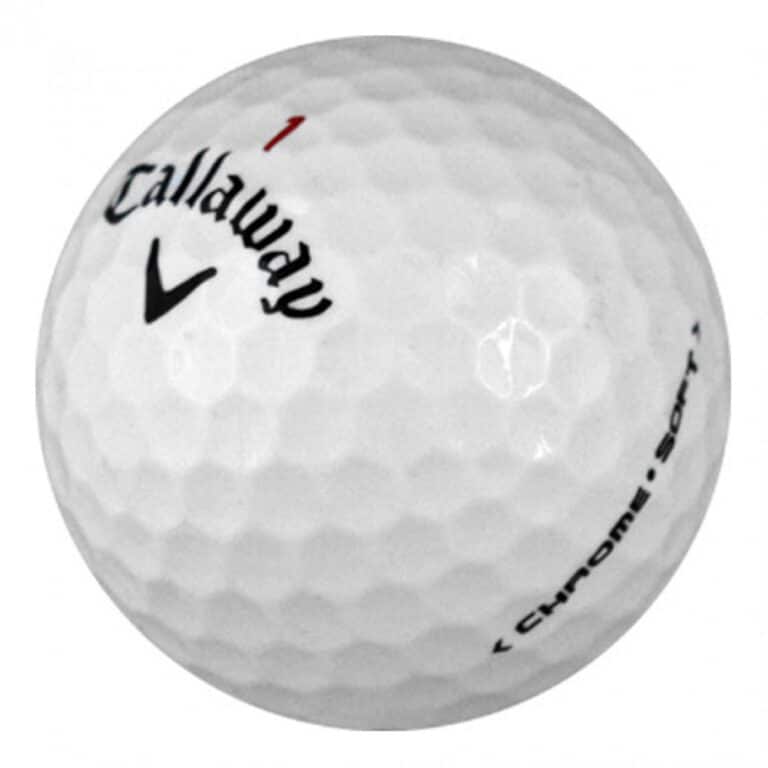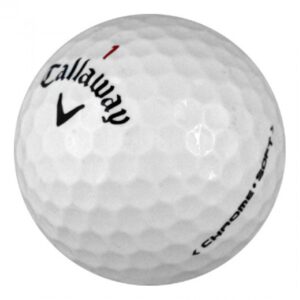 Choosing a golf ball is not an easy task since there are several aspects to consider, such as durability, quality, price, etc.
Besides, with so many options available today it's more difficult to choose one that suits our needs.
Therefore, it is best to purchase a high-quality golf ball that is versatile for all types of players, and one of the most versatile golf balls available today is the Callaway Chrome Soft Golf Balls.
Durability
These golf balls are tough and just as durable as the best premium balls on the market. They can withstand the wear and tear of constant use and remain in top condition. In fact, they are more likely to be lost while playing than damaged.
Construction
Callaway has innovated in the design of the Chrome Soft Golf Balls with a dual SoftFast core, which is composed of two cores, a very soft and firmer outer core.
The softer inner core allows the ball to reach more speed and go farther, which is ideal for slower swinging players.
And the outer, the firmer core, offers exceptional control.
Besides, the ball is made up of four layers the first layer is a thin cover that covers the two layers of the cores, and an outer layer made of urethane, which makes the ball have a soft feel.
Distance
Thanks to their combination of soft and firm cores, these golf balls can reach the same distance as other high-quality balls. Besides, Callaway has also improved the aerodynamic design by reducing drag, which allows the ball to have a better flight and a straighter trajectory.
Spin
Callaway Chrome Soft Golf Balls are mid-spin balls.
However, the urethane outer cover allows for more control over the ball and generates low spin on harder shots and high spin around the green.
This makes them an ideal choice for both mid and high handicappers, as they can reach good distances with great accuracy.
---
Callaway ERC Soft vs Chrome Soft: Comparison
Both balls are the brand's 3-piece soft golf balls. However, to keep the price down, the ERC Soft comes with a polybutadiene cover, unlike the urethane cover on the Chrome soft, which is also more popular.
You can expect premium performance on Chromesoft compared to the ERC.
Although their distance performance may be close, you should also expect a lower level of spin on the ERC Soft, compared to the Chrome Soft, around the greens, and on approaches. So, if you have too much spin on your hand and looking for more control, you can try the ERC.
The ERC is considered Callaway's longest soft golf ball because it comes with the new high-energy core. However, some golfers who have tested the Chrome Soft and the ERC will argue that you should get a similar distance score on both balls.
All in all, if you can't decide which is the most appropriate for you, you can take a few approaches:
If you have the budget, you can get and try both balls
Try each ball and go with the one that gives you the best shots.
Try and decide which of the two balls offers the best features you're looking for.
Related Posts: