Just when you think that you have the best iron out there, there is someone working hard somewhere to prove you wrong. Someone out there is bent on designing an iron that defies his own standards of excellence.
Pro-Golfers out there always want their golf balls to behave as they want it to. Designers in the world are making sure that the irons that they come out with are like companions who instill confidence, reliability and make sure that Golfing for you remains what it is known for – a gentleman's game.
Today I am going to discuss with you the 5 best golf irons available for mid-handicappers. Each of it is unique in terms of using technology to up the ante. While it's true that a "good golfer needs more daylight to play", these irons prove that technology that seems simple or hidden (to our eyes) can work wonders, especially when you are striving to lower your handicap.
Let's have a quick look at our top 5 picks:
TaylorMade Golf M6 Iron Set – The Speed of Trust
Ping G410 Iron Set – More for Less
Callaway Rogue Irons – Pushing the Speed
Mizuno JPX919 Forged Iron – Bettered the Best
Srixon Z 585 Irons- More Muscle with a Softer Glide
The overall winner Iron in our review promises a ball speed like never before!
Quick Tech-Specs:
Flexible Thru-slot Speed Pocket
360° undercut Fluted Hosel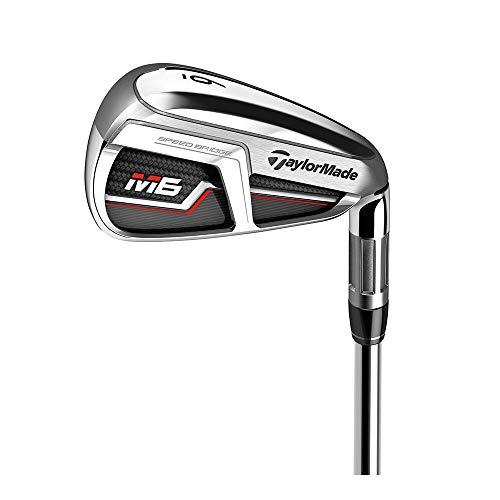 Stephen Covey says, "Nothing is as fast as the speed of trust". If you are a speed enthusiast, then the latest TaylorMade Golf M6 Iron Set is the obvious choice. Let's face it. The innovative Speed Bridge Technology has nailed it and made M6 the overall killer that has changed for the better and unlocked new value for mid-handicap golfers.
See for yourself.
Speed Pocket Technology for Better Speed
M6 (which is basically the bigger version of M5) is the first iron that uses flexible thru-slot Speed Pocket to generate ball speed. This feature makes it better than previous M2 and M4 sets. Rather than using a welded supplementary piece, it is now a single piece of a stainless steel beam with a polymer vibration dampener that joins the crown to the sole of the iron, thus improving the feel, increasing the sound and giving it all that a golfer needs – a visual appeal.
Quick Review – this technology has changed the way the iron face behaves with ball impact.
Now, what about getting the ball airborne?
360° undercut Fluted Hosel for Better Ball Flight
A pro-golfer trusts the loft and grooves on the iron rather on his hands and wrists to get the ball in the air. M6 is designed with a 360° undercut Fluted Hosel that generates a strong ball flight with the help of its launch angle. This relocates the weight to the back of the head and creates a low center of gravity.
A Game Changer
Game Improvement Iron – This is what the manufacturers call the M5 and M6. And by all means, it is!
These two recent versions of 2019 are the fourth innovative generation of the M series and the biggest game changer is the speed. The M5 and M6 versions deliver shots 1.5 mph higher than the M2 and M4 versions, thus giving them a substantial advantage. In terms of yards, M6 goes more yards compared to M5 due as spots are 1.5° stronger.
Let's Review and Compare
M6 scores on the loft compared to Ping G410 as the M6 7 Iron is 28.5° compared to G410's 30°. A mid handicapper with the M6 Iron can fling the ball higher than with a Ping G410.
It may seem that the M6 lacks the feel compared to the Mizuno and Srizon forged; however, its foam infused design is a win-win for mid-handicappers looking for distance and speed.
In terms of how the ball impact feels to your ears, Callaway Rogue Irons wins with its Urethane Microsphere Technology.
TaylorMade's innovative technological improvement trumps all other Irons as it consistently gives the best speed and yardage – all that a golfer needs.
Our next Iron promises more for less!
Quick Tech-Specs:
COR Eye Technology
Inbuilt Tungsten Weights
'PING' was the sound that came off as the metal club struck the golf ball. Way back in 1959, the founder, Karsten Solheim named his company after this reverberating sound. However, as the following years have shown, the Ping iron has given the golfers something more than sound. What's it?
According to President John K. Solheim, Ping engineers took up the challenge to make smaller Irons with better forgiveness.
The Best Forgiveness Out There!
Right from the earliest Ping K1 Iron, the G series has reshaped the way technology works for Golfers. Mid Handicappers who play regular shafts will find good dispersion on poor contacts with one of these Irons. To say – the G410 gives more forgiveness for the less accomplished golfer – a hefty 8% more!
Tungsten Weights for Stability
Compared to the clubs of the past, G410 is designed to look sleeker with a shorter blade length and a slightly larger club face – a much-needed improvement from its earlier G400 Iron. To top that, it has now introduced something that golfers have never seen in an iron – tungsten weights inbuilt on the toe and the hosel for more stability and consistency on off-center hits. However, there's more that puts it in the 'Game Improvement' category.
The Hidden COR Eye Technolog
If TaylorMade boasts about its Speed Bridge, then Ping has come up with it's COR Eye Technology. It's the technology that's hidden behind the clubface – unlike the Speed Bridge. This technology ensures flexibility across the entire clubface to increase the ball speed – up to 3 mph over Ping G400 and earlier versions. For a mid-handicapper, striking the ball from the center and off-center ensures the same results – straighter and longer strikes.
Also, the G410 is one of those irons that are priced less than $1000, cheaper than the Ping i500. Again – more for less!
Let's Review and Compare
If you still use the previous versions of Ping G series, then it is highly recommended to switch to Ping G410 as it has a 3% smaller blade length, 10% less offset, and 8% more forgiveness, thus giving you the maximum advantage on the turf.
The Tungsten weights add weight to the Iron. So if you are a mid-handicapper looking to lower your handicap, then these additions will give good strikes off the club.
Even though the Callaway Rogue Iron wins with its infused tungsten, the Ping G410's Tungsten weights have a superlative advantage due to its smaller blade with increased forgiveness.
Ping G410 and TaylorMade are newer and better than Srixon Z585, however, the V Tour Sole design of Srixon has a comparative advantage over difficult or uneven turf conditions.
Let's move on to an Iron that has pushed Technology to its limits.
Quick Tech-Specs:
360 Face Cup Technology
Urethane Microsphere Technology
Tungsten-infused Internal Standing Wave (ISW)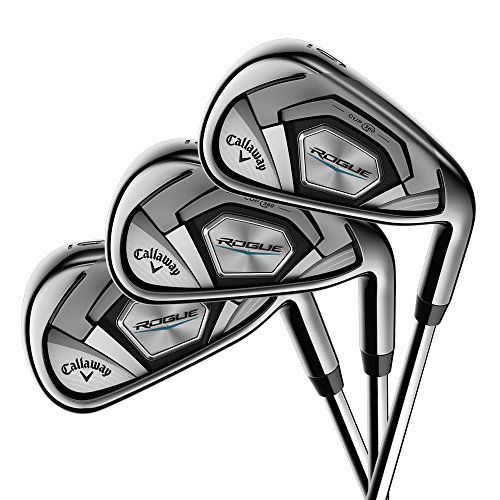 Technology is the word of the day. To be more precise – it's the word of the age. If appearance, forgiveness, and distance are the three options – a golfer with a Callaway Rogue can tick them all. Like its counterparts, Callaway Rogue has used technology to ramp up its effectiveness on the ground.
With the launch of various irons over the years, the Callaway siblings (Rogue, Rogue Pro, Rogue X and Rogue Women's) surely live up to its price.
360 Face Cup Technology for Better Flexibility
Callaway has retained the 360 Face Cup Technology (which appeared first in the 2014 Big Bertha Irons). With this, the iron has a very thin striking surface. However, it also has a thin boundary area around the clubface which gives greater flexibility and an efficient release upon impact.
As Callaway puts it – It aims to push the ball speed to the unknown.
Urethane Microsphere Technology for Better Sound
Another interesting aspect of Callaway's tech offering is Urethane Microsphere Technology. Since thin faced Iron's produce an unpleasant vibrating sound, some Irons insert material in the head to suppress it, which in turn leads to slower speed. Callaway Rogue Iron solves this dilemma. Its Urethane Microsphere technology silences this vibration without slowing the speed.
Use of Tungsten for Ball Control
The Ping G410 Iron uses tungsten weights in the toe and the hosel, whereas Callaway Rogue Iron uses Tungsten infused Internal Standing Wave (ISW) in the Iron's head that concentrates the Centre of Gravity to a specific area to give superlative ball control and flight.
Scott Manwaring, Callaway's Director of Design stated that the VFT (Variable Face Technology), a carryover of the previous versions, is not just the driver for ball speed and launch angle, but also for adjusting the spin.
Let's Review and Compare
In terms of technology, compared to TaylorMade and Ping G410, Callaway is the clear winner as it employs 360 cup face, VFT, Tungsten infused Internal Standing Wave (ISW) and Urethane Microspheres.
In terms of looks, Mizuno JPX 919 and Srixon Z series with its forged iron has a better visual appeal at the address confirms what people say, "Golf is all about what's in the head."
Rogue Irons are tagged as 'distance machines'. Hence, a prudent mid handicapper can go a long way with the Callaway Rogue compared to Ping G410 when it comes to ball distance.
Our next Iron has bettered its own best!
Quick Tech-Specs:
Hidden Micro-slot
1025E Carbon Steel and Boron element
Tungsten-infused Internal Standing Wave (ISW)
How do you improve the excellent? That's what Mizuno JPX919 is all about. They had one of the best irons out there, till they came up with the JPX 919; and this had all golfers asking the aforementioned question.
The Technology that's Hidden Below
Golfers usually say that the power of the Iron lies at the bottom. That's where Mizuno has provided the improvement. The leading and the trailing edges no longer have the cut which was present in JPX900 and JPX 850. Instead, it now has a hidden micro-slot that compensates for the earlier double cut. This has been done to maximize the inertia and save weight. For an average golfer, this technology improves the center of gravity and gives good center and off-center strikes.
Something Stronger than Steel
Another important feature that Mizuno boasts on its website is that the iron is infused with 1025E Carbon Steel and Boron which have been designed using high definition grain flow forging process. How does it exactly help the mid-handicapper? Firstly, it improves stability as Boron is 30% stronger than steel. Secondly, it gives the golfer a better brusque sound from the club face.
No wonder we have the adage, "Nothing feels like a Mizuno"
In terms of performance, JPX 919 is similar to the JPX 900, as the earlier versions were the best. Unlike TaylorMade and PingG410, which introduced massive upgrades in terms of designing and technology, JPX 919 is a small upgrade to its previous versions.
Golfers who own JPX 900 would not be missing a lot if they continue with their irons. However, those conscious of design and sound would very well give a shot to JPX 919. For as we say, Mizuno has bettered its own best!
Let's Review and Compare
Mid-handicappers who are concerned about their off-center strikes can be at an advantage with Mizuno JPX 919 owing to its hidden micro slot.
In the forged category irons, the JPX 919 fares better than Srixon Z585 as it delivers more speed due to its cavity design.
Players looking for more stability and strength can benefit from the Boron infused steel present in the JPX 919
Golfers have mixed feelings about Mizuno JPX 919's looks and feel. Agreed, it is not one of the strongest and the best-looking irons out there; however, when performance and looks are concerned, JPX 919 stands at the middle ground.
Our final pick gives more muscle with a softer glide:
Quick Tech-Specs:
Improvised Speed Groove
Tour VT Sole design
A compact players Iron. That's what Srixon calls its Z 585 Iron. For all its worth, the goalpost that defines distance, speed and feel is being shifted by Srixon in its latest set of Z 85 series for the mid handicappers. Not that the earlier Z 65 series were less; but now Srixon has brought 'silver in place of Iron, Copper in place of wood'.
Speed Groove to Boost Distance
Z 585 belongs to the third generation of the Z series Irons- Z45, Z65 and the current Z 85 and is the larger and more forgiving irons among these. For moderate swing speed golfers, the Z 585 offers an improvised Speed Groove to boost the distance. Like Mizuno, Srixon has a sleek look due to its forged manufacturing design.
Z585's head is slightly larger due to the recessed channel around its perimeter. This cavity pulls the weight away from the club face which helps average golfers with forgiveness and greater moment of inertia. For mid-handicappers, this iron provides greater launch angle and helps with their hits.
Another feature that is available with the newer Z785 irons is the tour cavity which puts extra mass behind the impact area of the club for greater distance control and flexibility. Regarding the loft angle, Srixon's 7 Iron is 31° while Mizuno's 7 Iron gives 32°, thus pushing Srixon on the higher side.
Tour VT Sole Design for Consistency
Another technology that makes Srixon popular with tour pro golfers is its Tour VT Sole design. How does a golfer perform consistently in a wide variety of turfs? Under the new design (which came out with the Z 65), the designers rounded out the heel and toe portions of the sole and trimmed out some material from the trailing edge. This made the sole narrower, or V-shaped, and reduced the interaction time between the sole and the turf leading to more distance consistency.
Let's Review and Compare
Both Srixon and Mizuno come under the Forged Iron category. Even though both offer the same sleek look, the Srixon provides more launch angle due to its Speed Groove.
Even though Srixon doesn't provide a baggage of technological innovations like the Callaway Rouge, its absence of welding on the face can give the same ball impact as that of Callaway's 360 Face Cup.
Srixon's Z 785, the newest launch in the 85 category is said to have the strongest face in the market due to the use of stronger titanium alloy (Ti51AF). It stands as a strong opponent for Mizuno's JPX 919 Boron.
However, players looking for more distance and forgives would be better off with the TaylorMade M series and Ping G410 Iron.
In Conclusion
Let's face it. Choosing the best iron can be a daunting task. A mid-handicapper needs a combination of determination and patience to select the best iron to improve his game. 2019 has seen the launch of some best irons – almost singularly designed for players who constantly try to improve their handicap levels.
Each Iron reviewed above is a leader in itself. While it's true that prayers are never answered on the golf club, a good golf iron can give you what every golfer needs – excellence.
What is your favourite golf iron? As a mid handicapper, what makes you choose it? We would like to hear from you in our comments section below.