Do you love to walk when you play golf but are frustrated you can't find a comfortable, lightweight carry bag that will get you through your round without experiencing back pain?
Several studies show that walking just 2 rounds of golf a week is equivalent to burning 2,500 calories.  It's the way the game was meant to be played!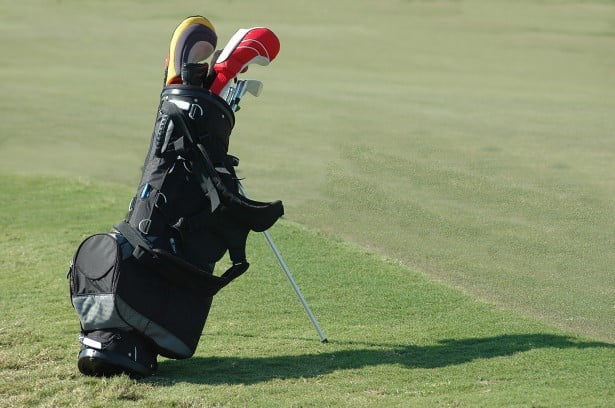 Finding Zen
If you've golfed for any length of time, you know there's just something peaceful and wonderful about walking the course.
The pace is relaxing, you have time to think between shots., it's a refreshing workout, you have more time to enjoy the beautiful surroundings.
Oh, and then there's this all too common occurrence….
Enter The Aches and Pains
How many times have you played a hole that was "cart path only" only to have to walk to the opposite side of the fairway with 2-3 clubs in hand hoping you've guessed the distance correctly? Annoying, right?
Finding the lightest golf bag gives you the freedom to enjoy the game without dealing with back pain and general fatigue during a round of golf.
But, some fitness experts claim, carrying your bag is bad for your health putting too much stress on your body and is likely to compromise your posture and core stability over the course of the round:
It's a fine line, balancing the health benefits of walking the course and carrying your bag versus the convenience of taking a cart!
We Have A Solution For You!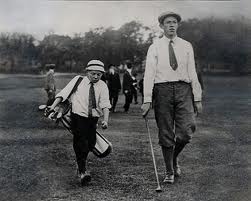 Luckily, finding the lightest golf bag alleviates many of the health concerns they raise while giving you the freedom of walking the course on your terms without putting undue stress on your back!
So, whether you're playing a quick 9 holes, a full 18, or an occasional 36 hole marathon round., what factors should you consider for finding the lightest golf bag you can to ensure you get maximum enjoyment while minimizing any health issues associated with carrying your bag?
Here's What to Look for in a Lightweight Carry Bag
There are a variety of designs to choose from and many of the newer models weigh between 4-5 pounds which is plenty light to keep your back in good shape for the entire round.
Take stock of your individual tastes and factor in the below considerations before making a purchase.
Does it have a kickstand with solid legs?
Pay special attention to the footpads on the base of the legs.  Some are sturdier than others which are especially important on uneven terrain.
Are the straps comfortable?
Try the bag on with a few clubs in the bag and make sure it is easy to adjust the straps. Is the padding comfortable?
Is it durable? Does it have a solid base?
Does it feel like it would blow over in a gust of wind? Does it hold its shape and have a solid ring around the top of the bag?
Does it have an adequate number of pockets?
Aim for 5 total pockets. Check the depth of the pockets. Will it hold enough tees and balls? Also, make sure side pockets comfortably hold the wallet, watch, and related items.
Does it have an umbrella holder and towel ring?
Make sure the umbrella holder is big enough to hold your umbrella. Also, check the clip for the towel ring. Some of them are harder to clip and unclip a towel if you're taking it with you to the green to clean your ball.
How many dividers does it have?
A bag with 2-3 dividers is sufficient. Test outputting a few clubs in the bag to see how easy it is to get them in and out of the bag.
Is it waterproof?
This is often overlooked but this doesn't only apply to rainy days. It's nice to have a bag that is waterproof for those early morning rounds with wet grass.
Test out the rain hood!
Take it out and cover a few clubs in the bag. Is it easy to snap on and remove?
Explore your options and be sure to "test" the bag and get a sense of how it feels. The good news is there are a variety of bags in the "lightest golf bag" category that will suit your needs and are available at a budget-friendly price!