Even if you have been playing golf for the longest time, you might have never heard such a term as the best golf rangefinder.
Or even if you have, trust me, there is still a lot to discover when it comes to these state-of-the-art distance gauges.
To put it simply, these days pretty much any golf player without a rangefinder is like a teenager without their Facebook or Instagram account. They can't live without it.
Unless you like sharpening your game without 'cheats', of course. Over 85% of professional golf players as of this year own a rangefinder as a gadget or as an app on their phone.
Gaining more and more popularity, millions of golf players out there just cannot be all wrong. Rangefinders are also known as distance finders, are your irreplaceable best friend out there at the golf course.
Best Golf Rangefinder for Beginners: Quick Overview
Laser-Operated
GPS-Operated
How Does It Work? Explaining A through Z.
Even for a professional golfer it is sometimes really challenging to guestimate the approximate distance from the ball to the hole.
And distance is just one of the numerous factors you need to take into account when hitting each shot: others include weather, wind, strength, spin, terrain, etc. rangefinders come in handy real fast when you realize that it is difficult to find distance markers on some public golf courses.
And distance is very, very important to know.
How do you measure it though? Very simple.
There are two types of golf rangefinders out there: GPS-based and laser-operated. Both of them have their pros and cons.
DID YOU KNOW?
"7X is the highest magnification level installed in rangefinders nowadays, which is approximately 8 times lower than that of an average camera."
– Figures from GolfSmith.com
Let's take a look at some of the advantages and disadvantages and see some product examples of both, shall we?
Let's start with the easiest to explain. I like to take it slow and lay the information out piece by piece.
Laser-Operated Devices: Principle of Operation
Have you ever tricked a kitty by pointing the red laser at the wall and laughed your butt off watching the poor animal try to catch it? Well, the idea is about exactly the same.
No high IQ score or rocket science degree required – simply stand by the position of your ball and point the laser at the pin and the best golf rangefinder will give you the precise and exact yardage to the hole for your next shot.
According to the majority of leading golf magazines, including Golf Digest, laser-operated devices are far more accurate providing the distance to the flagstick than GPS-operated devices.
Now let's talk about the latter.
GPS-Operated Devices: Same Thing
If you have ever planned your trip beforehand on Bing maps or using the dashboard computer in your car, you will easily see how similar the GPS-based rangefinder is in its principle of operation.
Just like you can view the route as well as terrain from the satellite pictures for your journey, you can see pretty much everything around and on the way to the hole from above.
The best golf rangefinder will not only provide you with the satellite-calculated distance between the ball and the hole but will also show the picture of what can be the safe area to land the ball or what can be a serious obstacle for the shot after this one.
HINT:
"To conserve battery power, it is recommended to write down obtained yardages to avoid excessive use of the device and measurements of the same distances for the same holes"
– Provided by eHow
Below, please find two videos with short reviews and demonstrations of both types of rangefinders in action.
Enjoy:
Laser rangefinder Presented by Nikon CoolShot 20
GPS rangefinder Presented by Garmin Approach G8
Which one is the best?
So, the accuracy of distance measurement or the precision of the 'land mine' map around the hole? Which one would be better for me: laser or GPS?
Decisions, decisions… Fine.
To weigh all information in, let's see how these two types of rangefinders work when put face to face.
Laser vs GPS: Round 1 – Distance Calculation Accuracy. Fight.
Okay, so it has been established that a laser-operated rangefinder provides pretty much exact distance to the flagstick whereas a GPS-based one can have a margin error reaching up to a few feet or yards.
It is a proven fact and has been pointed out by many professional golfers and authoritative golf magazines.
Laser 1:0 GPS
Laser vs GPS: Round 2 – Side Features Consideration. Fight.
A laser-operated rangefinder does not give you any information other than distance.
Also, take into account that if you cannot physically see the hole or even the flagstick, which might be obscured by the hill or a tree line, you will not be able to measure the distance with the help of a laser.
The beam does not go through things.
Additionally, all laser-operated rangefinders have limited distance capabilities, usually able to cover and calculate the distance of up to 1000 yards.
GPS, however, utilizes data and satellite capabilities to glance from above and see where the hole is, how far it is from where you are at, even with a margin error possibility, as well as the location and terrain around the hole.
Laser 1:1 GPS
As you can see, while GPS may not give you the most accurate distance measurement, it compensates for the lack of precision with more 'inside' information of what is going on around the hole. It helps you weigh and make some 'smart' shot decisions.
Some of the best golf rangefinders even provide recommended advice on how to hit a ball based on the given information about current weather and terrain conditions.
So, basically, it is like a smartphone app that advises you to call or fold a hand while playing Texas Holdem poker…
Hold up…
But Is It Even Legal?
In accordance with the Rules of Golf Book of 2011-2012 edition by the United States Golf Association (USGA), the use of any rangefinder that provides any information other than distance is prohibited during the regular season and postseason tournaments and contests.
Rule 14-3 states as follows:
"The use of a distance measuring device is a breach of Rule 14-3, which states that during a stipulated round, the player shall not use any artificial device or unusual equipment for the purpose of gauging or measuring distance or conditions which might affect his play (Rule 14-3).

The USGA Handicap System requires players to post scores made when a device, which measures distance only, has been used (regardless of whether the Committee has adopted the Local Rule described below). Scores made while using a device which measures other conditions which might affect play (e.g., wind speed or the slope of the ground) are not acceptable for Handicapping purposes.

The Committee may, by Local Rule, permit the use of devices that measure distance only."
The keyword in the last sentence is 'may'. Which means it may happen or it may not. However, generally speaking, professional golfers are not permitted to use any rangefinders during competition.
Mostly due to the fact that they are afforded an opportunity to play at the field before the tournament and write down yardages and distances from hole to hole as they go.
FUN FACT:
"Despite the general ban on rangefinders for competitions, USGA allowed for use of laser rangefinders at Women's State Team Championship in September 2014. Decision came in an effort to determine whether restrictions can be lifted or loosened as for the use of rangefinders during tournaments."
 – According to this
As you can see, clearly you cannot use any other feature other than just distance measurement when playing the official championship, and neither can you use any distance measurers period unless the Committee has issued a special rule permitting such use, otherwise you will be disqualified.
However, if you are just hitting a few balls for fun every now and then, or prepare for a tournament, you are free to use just any cheating device you want. It is a free country after all. 'Muricah, right?
And to end our Tekken-style battle between the two rangefinders, we would go ahead and make it…
Final Round. Laser 2:1 GPS. Laser Wins.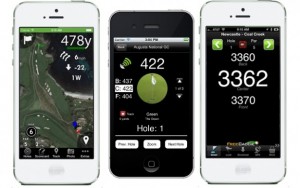 Sorry, there just was a need to pick a favorite.
But on a serious note, it makes much more sense to rely on a laser-operated rangefinder more than on a GPS-operated one since the distance is basically the primary feature it is responsible for determining.
distance measurements are frequently inaccurate even though the error would be not more than several yards, whereas a laser-based rangefinder gives you the precise distance.
Especially taking into account that not every GPS rangefinder comes with additional features. Some of them simply measure distance.
So why allow a possibility of an error when you can just use a laser rangefinder instead?
Those features GPS-operated rangefinders have, such as terrain and look from above, are something you should be familiar with before you play that or another hole, while weather advice is something that you probably already know, for example, taking into account current wind speed and direction in order to calculate the proper direction of a shot as well as power and spin.
But again, it is a matter of choice. Some golfers strongly prefer GPS over laser, while others trust laser devices more. It is a question of habit and convenience on a golfer-to-golfer basis.
For example, having a laser rangefinder would require you to purchase a device that does just that – it measures distance, while you can just download a GPS rangefinder app to your Windows Phone or iPhone at much more affordable prices and without the need to carry an extra device every time you are going to shoot some balls.
Now, are you curious about some devices that you might like?
Best Golf Rangefinder for Beginners: TOP 3 by Type & Reviews
Laser-Operated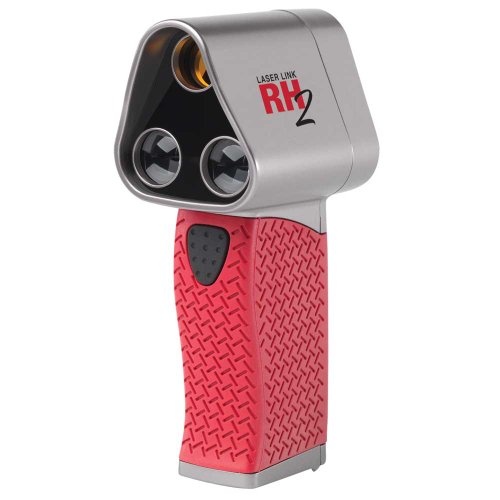 Making our top three best list of laser rangefinders today, Laser Link RH2 has got a lot to offer and will become a useful tool for a beginner or a professional golfer.
For your convenience, this rangefinder features a non-slip pistol-shaped handle finished with high-quality rubber.
Just point the device as if you were pointing a gun at the flagstick, have a laser lock on it with the help of a red dot on the lens and 'pull the trigger' by pressing a button.
Within seconds, the device will calculate and confirm the yardage in three different ways: through audio, silent, and vibrating notifications.
Your measurements will be displayed on a large and easy-to-read external LCD screen. Additionally, having an extraordinary shape, compared to other rangefinders, it is easy to store, easy to use, and easy to put away after use as well.
RH2 can measure a distance of up to 1000 yards which is way above average.
It only requires 1 9V battery to operate, however, you do not have to worry about getting one – it is already included with the purchase and will come in a package with the device.
Tour V3 featuring PinSeeker JOLT technology will be your irreplaceable device to measure perfectly accurate distances without the use of any reflectors or prisms.
Calculating distances with the precision of 1 number after the dot, there is a little to no chance of small error (+/- 1 yard) when measuring ranges from up to 300 yards for a total maximum effective range of up to 1000 yards.
Rubber armored design provides rainproof construction and a stable grip for maximum performance.
Also comes with a 1 3V battery needed for operation, a carrying case to store in as well as a 2-year manufacturer warranty if purchased new.
Currently, can only be purchased in the United States. Sorry, Canada.
Over 90% of golf players choose Bushnell products. They just can't be wrong.
Available in four colors (red, black, orange, and white), this rangefinder has way more to offer than just a cute design.
PinSensor 3 for measuring overlapping objects with first target priority mode to measure the distance to the closest object (allows for flagstick detection ignoring background targets) as well as IntelliScan for random scan and measurements to objects scanned, such as barriers, trees, and bunkers, are the two main features that make this innovative rangefinder a good pick for a reasonable price.
1-year warranty included with the purchase.
Small, lightweight device also features 6x magnification and a 24-mm objective. Free 3V battery included along with free shipping and handling.
Small, lightweight device also features 6x magnification and a 24-mm objective. Free 3V battery included along with free shipping and handling. Cheaper version for more features. Sounds legit.
GPS-Operated
GolfShot
GolfShot – is a smartphone app that you can download to your iPhone, Android, or Windows Phone.
Since the purchase of the device is not required, the manufacturer will only charge you $29.99 for the download.
You can map your every shot and know exactly where and how to hit the ball with helpful hints and measure distances with ease between more than 2 objects at the same time!
This is a must-watch review of the app.
Check it out:
Do you know the famous GPS navigators by Garmin?
Then you know it is a technology brand you can trust. Approach G8 is the latest GPS rangefinder by Garmin, which features distance measurement adjusted to uphill and downhill shots.
Trajectories are shown on a 3-inch LCD touchscreen; it also saves distances you hit with each club and further provides recommendations on which club to use in the future.
With an average battery life of 15 hours of continuous use, you are able to connect to Wi-Fi which allows you to save and share your rounds and compare them to your previous games.
Also with a Wi-Fi connection, it updates courses automatically at no charge and also features the ability to receive e-mails, text messages, and alerts when synchronized with your iPhone.
Sounds like a great catch for any golfer.
A big fan of your Fitbit or Microsoft Band? Well, here is something else helpful you can wear on your wrist. Presenting you Bushnell Neo XS.
Apart from being used as a regular watch, timer, and alarm clock, it can measure hazard and layup distances of up to 4 per hole.
Comes with more than 33 thousand pre-loaded golf courses in 30 countries and you can add even more to that with a USB/sync cable that is included in the purchase.
Waterproof assembly with battery life for as long as 3 rounds of golf before it needs to be charged. Only available for purchase in the United States at this time.
Frequent golfer? Always have one of these 'on hand'.
Conclusion on Best Golf Rangefinder for Beginners
The important thing to point out, these six devices do not come in any particular order.
They all have great features to offer and it is rather difficult to pick the best. However, these are the best picks for you to consider.
'How far?' – is the first question you ask when looking at the flagstick.
Do not guestimate – know for sure with an investment in your favorite choice from our hand-picked list of the best rangefinders above.