When you're starting from scratch, choosing the best golf GPS can be a daunting task. With the sheer number of models on the market today, a golfer needs a starting point. After soaking in the information provided below, you'll be prepared to make the best golf GPS purchase that meets exactly your needs.
The term GPS instantly conjures up images of satellite navigation devices, possibly the kind used in the car or on a smartphone. Although the heart of a golf GPS contains hardware that can connect to the satellite grid, this is where the similarity ends.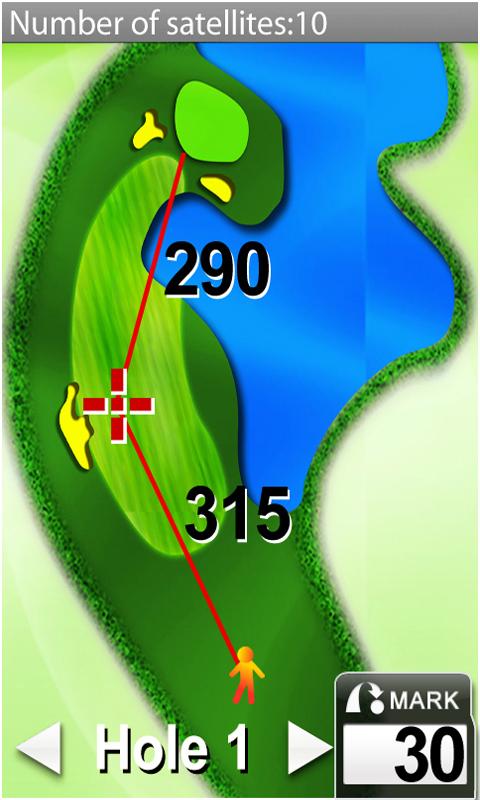 A golf GPS simply keeps track of where you are on a golf course. It can show you in real-time where you are, the distance to the hole, and other valuable information depending on the model. The better models can actually load information about specific golf courses.
They keep up with hazard changes and provide you with current conditions such as the amount of groundwater, wind speed, and wind direction. The most advanced ones will keep track of your game.
They're able to make intelligent club suggestions based on your previous performances. It's some pretty clever stuff that turns an electronic device into a pocket or wrist caddie.
What can a Golf GPS do?
Let's start off by examining one of the best golf GPS products around at the moment. The GolfBuddy GB3-PT4 Golf GPS/Rangefinder. This is a top-of-the-line GPS unit for golfers. Because it delivers almost every conceivable feature, it's the perfect choice to demonstrate just what a golf GPS can do.
First off it can track where you are on the golf course. So can a lot of other less expensive products. The more expensive units offer detailed data covering 40,000 different golf courses around the world. Lesser equipped units can come with the option of adding this feature.
Another feature of the GolfBuddy GB3-PT4 Golf GPS/Rangefinder is the ability to track shots and keep scores for up to four players. Finally, this is a smart device that learns your game. It can offer advice on approach and club selection while also considering all the natural elements.
How the Best Golf GPS can Improve your Game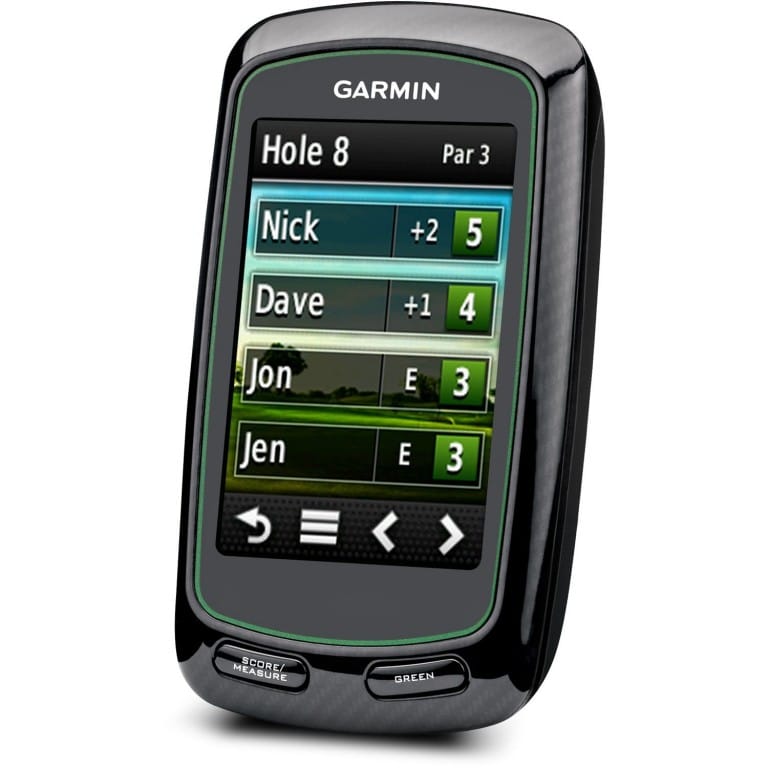 Knowing exact distances on the course is a clear advantage to your gameplay. The Leupold PinCaddie 2 Rangefinder is an excellent optical device that can pinpoint your distance to the hole within millimeters. Other models come with a position-based rangefinder function. For example, the Izzo Swami 4000 Golf GPS gives accurate range data not only to the hole but also to several green positions.
One drawback of the IZZO is that it comes with quite a limited monochrome display. At its listing price, it's hard to complain, but there are more readable options around.
Garmin makes a unit called the Garmin Approach G6 Handheld Touchscreen Golf Course GPS that comes with a very easy-to-read 2.6" display. If you are using your golfing GPS as a rangefinder, screen display size can be important.
Imagine if you read the distance wrong, and pulled out a big old driver when you should have pulled an iron. It might not be worth taking a hit because you couldn't read the display on your golfing GPS properly.
The Smart Device – Tracking Golf Tendencies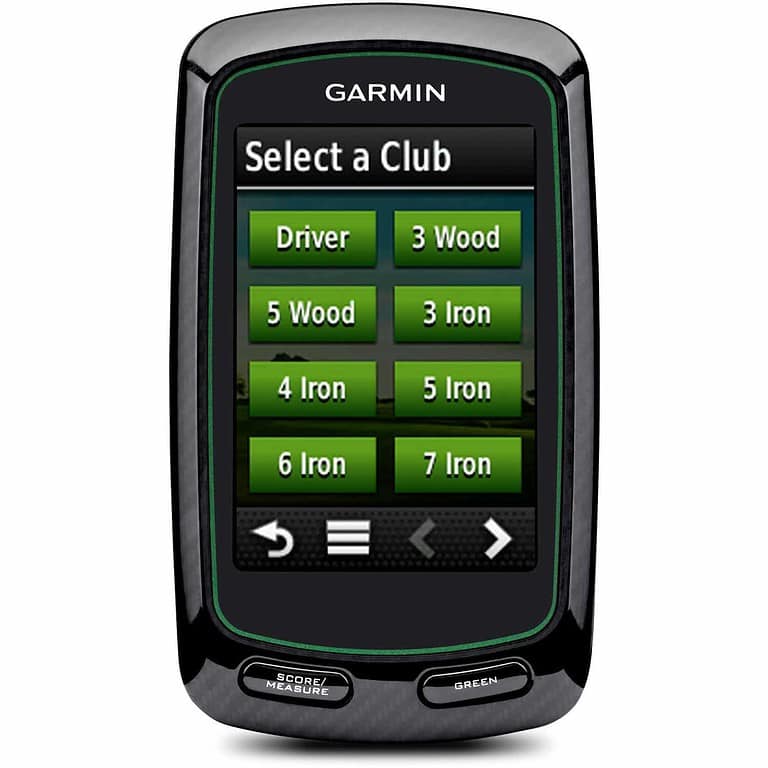 We touched on this briefly at the start. Some golf GPS products are intelligent ones that can keep track of how you play, generate statistics, and offer real-time advice based on these statistics. One of the better examples of this is the Garmin Approach G7 Golf Course GPS.
Besides giving real-time advice, this particular model can connect to the internet. It uploads information about your game to your personal Garmin online account. You can later access, study, compare or share this data using any web browser.
In-play suggestions can come in real handy when you don't have the luxury of hiring a caddie. The G7 uses historical data to offer clubs for you, as well as suggest potential shots.
When you're about to tee off on a straight fairway with a water hazard in the bottom half, the G7 knows how far away the hazard is because it contains the course data.
It also knows based upon your game history that using your driver will most likely put you in the water. It would recommend that you play short from the tee, and tackle the water hazard on your second shot. Very much like having a caddie in your pocket.
Other smart golf GPS devices take it a step further. The SkyCaddie SGX Golf GPS helps you achieve the best lie on the green. It does this by showing the user back yardages, topography, and contours of the green using a birds-eye view. Very much like actually standing upon and assessing the green yourself.
Finding User-Friendliness in your Golf GPS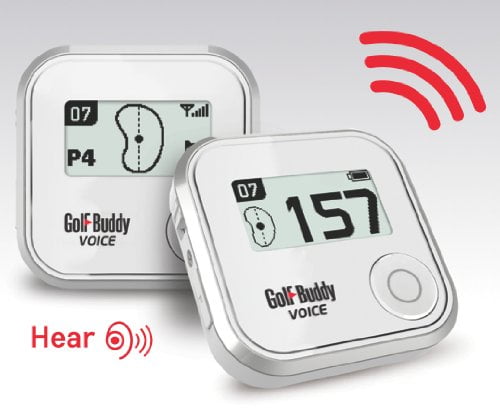 Not all golfers (or perhaps any golfers) want to spend hours off the course figuring out how to use their new technology. Ease of use ought to be somewhere on our list of pros when looking for the right one. It doesn't get much simpler than the GolfBuddy Voice GPS.
What could be more effortless than having your GPS talk to you?
It will give you shot distance, lie information, and much more as long as you're in hearing range. It's a very capable golf GPS unit despite the voice mode. It's also tiny and can be mounted upon an optional watch band.
Putting it all Together
In conclusion, it is picture clear how different the many devices can be. The best golf GPS is obviously not going to be the same for every golfer. Your exact needs probably have you leaning towards certain features.
Whatever distinctions make up the best golf GPS for you, one thing is for certain. We all want a product that is priced in our range, is durable, and does what we want it to do.
Save the time scouring the huge amount of products available because we've done much of that work already. Below we've compiled a range of the 5 golf GPS devices that stand out above the rest.
Our Top 5 Golf GPS Devices
Top Features Include:
4" High-Resolution LCD Screen
Over 37,000 Courses Pre-loaded
Water-Resistant
Replaceable Battery with 10 Hours of Life
No Hidden Membership or Download Fees
One of the higher-end handheld models available, the GolfBuddy GB3 puts every distance at your fingertips and then some. Other perks include distance display to any point on the course, target info, dynamic green view, scoring, and statistic analysis.
The feel of the GB3 is thin and comfortable in your hand. With all it has to offer, it's hard to find a better product on the market at such a reasonable rate. The GolfBuddy GB3-PT4 gets the gold in our scorebook.
Top Features Include:
Equipped with Over 25,000 World Wide Courses
Waterproof
Slim and Durable Design
Adjustable Backlight for All Lighting Situations
Scorecard Options
Statistics Tracking
The Garmin Approach G6 offers top technology at more of a mid-range price. Scorecard options such as Match Play, Skins, Stroke Play, and Stableford provide range golfers can appreciate.
The Garmin G6 provides several views with pertinent information for nearly every conceivable ball location on the course. Its small size and weight make it an easily carried companion.
Expect to spend a bit of time getting to know this model before use. The G6 offers incredible value for the features provided along with the price.
Top Features Include:
Over 30,000 Pre-loaded World Wide Courses
No Subscription Required
Easy to See – Easy to Read Display
Measures Distance of Front, Back, and Center of the Green
Top Reviews in Ease of Use
The Izzo Swami 4000 comes rated by consumers as one of the simplest to use. This is in part due to its one drawback. It's not packed with enough technology to make it that hard to use. The Swami does its intended job well, though, and holds good value for the asking price.
Additional features such as shot distance measurement, auto hole advance, and digital scorecard provide the finishing touches. The Izzo team is also known for its attention to customer support. The Swami 4000 is a sure bet as long as it includes the features you desire.
Top Features Include:
A step up from the Garmin G6. The G7 offers a zoom function to make the numbers on a screen larger and easier to read. It can account for up or downhill conditions and makes distance adjustments accordingly.
Its smart feature can remember how you hit each specific club, then make suggestions based on past club results. Finally, sync the G7 with your iPhone and keep up with off-course communications.
Usually around $50.00 more, the Garmin G7 sure offers a lot that its sibling the G6 doesn't. The G7 is well worth the extra amount if you decide to spring for it.
Top Features Include:
Hands-Free Synthetic Voice Direction
Complete with Over 35,000 Courses
8 Language Options
Watch Band Size
Top Reviews in Ease of Use
Take the caddie out of your pocket and listen from your wrist with the GolfBuddy Voice GPS. Rated as one of the easiest of all GPS units to use, who could argue with its detailed information all spoken out loud as you navigate the course.
The GolfBuddy Voice GPS has a display that shows you the distance to the hole as you walk or drive. The only thing I've heard to watch out for is its tendency to switch holes if you stray too far with a poor swing.
It's an easy fix on this one by simply tapping a button. With so many positive aspects, the GolfBuddy easily made our top 5 list. There's no going wrong here if you'd like to keep your golf GPS hands-free.
The Top 5 Golf GPS Roundup and Final Opinions
By no means is this list a complete picture of all the valuable Golf GPS units on the market today. It is one that has been well researched. It also offers most (if not all) of the technology available at prices designed for the everyday golfer, or weekend enthusiast.
Our hope is that the information provided here helps you find the right model for your exact needs. Don't forget to account for belt clips or wristband holders if you want more protection than your pocket for carrying purposes.
Lastly, shoot us a comment if you own a different model that appeals to you. Let the best golf GPS be your guide. We believe it'll make a big difference in all future courses.