Finding a quality golf club is a long, arduous journey of sifting through dozens of brands if this is your first time. If you're a professional, you probably have some old clubs in your golf bag, ready to swing when drawn.
You, on the other hand, need a new face, a more powerful swing, brighter color, and a performance-driven club.
And now settled on Callaway.
Unfortunately, you find both the Strata and Solaire from Callaway to be excellent clubs but unable to choose one.
This isn't unique to you though. Thousands of others often find themselves hung up on two specific brands with similar specs and performance and so unable to choose.
If that's the case, you're not alone.
In this article, I'll go over some of the similarities and differences of these two distinct clubs so you can quickly decide which one is for you. Remember, the best way to determine the most appropriate one is to test.
But first, read this article to the end!
---
Callaway Strata vs Solaire: Which One Is Better?
Callaway Solaire 11-Piece Set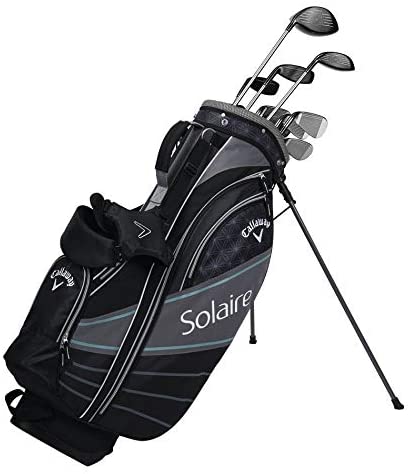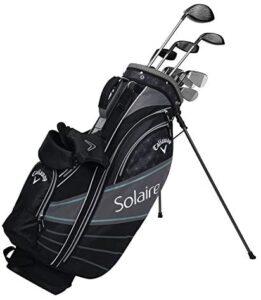 The Callaway Solaire is the perfect golf club for women of all levels of experience. It's one of Callaway's top-selling golf clubs…and that's for a reason…
If you wish to enjoy a high-quality design, high speed, and forgiveness, then the new Callaway Solaire 11-Piece club is here to cover all those expectations.
The club comes with a lightweight gold shaft that's specifically designed to help increase launch. The set has a low center of gravity and that makes it ideal for both left and right-handed women.
The set contains 11 pieces in total, including 10 clubs, a high-quality golf bag, and matching headcovers.
A pitching wedge and sand wedge are also, included in the bag in order to allow players to hit the ball with accuracy from everywhere on the course.
Both the driver and fairway wood in this Callaway Solaire set promote higher launch and longer shots even when you hit at lower speeds.
Whether you are a newbie in the whole golfing experience, or you wish to possess a set of golf clubs that really stand out, Callaway Solaire 11 11-Piece is one of the best options.
Its elegant appearance and top-notch performance have made this set popular among female golfers from all over the world.
Features
Premium look – Getting a good golf club is not only about performance but also the design, look, and appearance of the items.
Equipped with complete coverage – The club comes with Callaway's tech that ensures the club is suitably forgiving, straight, and accurate so women too can enjoy longer and straighter shots.
Focus on beginners – As you can see, this Solaire is geared towards beginners with all the features you'll find in many other brands.
Final Thoughts
The Callaway Solaire set is packed with both style and functionality. With 9 total clubs, an elegant carry bag, and attractive headcovers, this stylish set is framed with beginners in mind.
As a high-quality club that's reasonably priced, this lightweight yet sturdy set is a suitable option for beginners and ladies alike. If you're looking for a beginner-friendly starter set, then this is a good option for you.
---
Callaway Strata Golf Club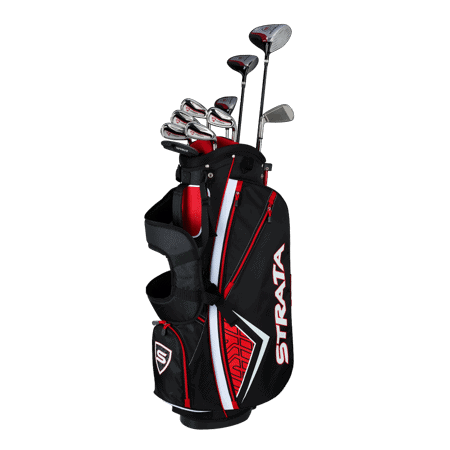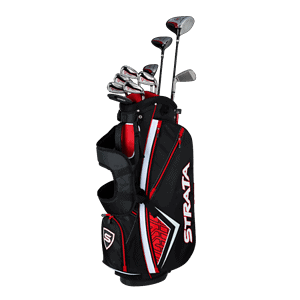 For new golfers, choosing the best golf clubs can be daunting given the variety of options that are currently available on the market.
Callaway Strata Golf Club is a great set of golf clubs for beginners and it is also widely popular with experienced golfers.
The reasonable price of this Callaway set offers a performance level that beginners can rely on compared to other low-priced golf club sets.
Some of the main selling points of this set include a great level of distance, accuracy, and forgiveness. Here are the features, pros, and cons of the Callaway Strata Golf Club.
Features
For a high-quality golf set, a 12-piece set is standard. It targets new golfers that are looking for an amazing first set or those who wanted to upgrade their old clubs. The Strata 12-Piece set includes:
3 Wood
Driver
6-9 Iron
5 Hybrid
Putter
2 Headcover
Stand Bag
Pitching Wedge
This set is designed to provide maximum performance with a great combination of control, distance, and forgiveness. The key feature of the set includes:
Large 460cc driver with a sweet spot for added forgiveness and titanium club head.
Huge cavity-backed irons have a great sweet spot and can keep your shot accurate with the help of perimeter weighting.
Hybrids that are low profile are a fine partner for growing golfers.
Alignment on a mallet putter is great aid on accuracy.
The set's stainless steel irons give an amazing combination of control and forgiveness.
Pros
A lightweight bag that includes numerous convenient pockets.
Beginner-friendly hybrids in contrast to long irons.
You can choose more options aside from a 12-piece.
Added forgiveness on mishits on game improvement clubs.
Cons
Options for bag color are limited.
Some golfers favor long irons over hybrids.
Final Thoughts
For golf beginners and high-handicappers, owning a complete set of golf clubs that offers many options at a reasonable price is highly important for starting right on their golfing journey.
Callaway Strata Golf Club set provides 12 clubs that guarantee the right starting position for new golfers and also a great upgrade from your old golf clubs.
If you are looking for a new golf set as a newbie golfer, an intermediate player, or if you want the best golf club option for your money, the Callaway Strata Golf Club can meet your needs.
---
Callaway Strata vs Solaire Comparison
There are a few things that set apart the Solaire from the Strata. In the looks department, the Solaire is more professional looking compared to the Strata where Callaway has maintained simplicity in the structure and look.
Also, while Solaire goes up to seven irons, Strata is only up to six with an extra club, thus giving the Strata an edge. Finally, the Strata set is significantly cheaper than the Solaire set.
So, if you're looking for an inexpensive club without compromise in quality, you may want to consider the Strata set.