To enjoy the time you spend on the golf course, you need the right golf equipment. I'm not talking about expensive or premium accessories. You don't always have to go that route to find something that works for you.
One of the most fulfilling activities you can find yourself in is searching for the right golf ball. With a bunch of options out there, you're bound to spend sometime looking. But be assured that that time is not wasted, provided you choose the right ball.
There are popular brands around like Titleist, Callaway, Srixon, etc., that make quality golf balls. Depending on your budget and preferences, there are plenty of options out there.
Two of the very good options are the Callaway Hex Tour Soft and Chrome Soft. As is visible from their name, these balls are designed for those looking for soft golf balls at a reasonable price point.
Although they might seem similar, there are bound to be subtle differences. Let's find out in this article how similar and how far they differ:
Callaway Hex Tour Soft vs Chrome Soft
Callaway Hex Tour Soft Golf Ball
The Callaway Hex Tour Soft and the Chrome Soft have been around for a while. While the Chrome Soft is popular and is talked about often, the Hex Tour Soft isn't.
It's a lesser known golf ball from the same brand. Is it worth it? And can it be compared to the Chrome Soft? Let's find out.
Features
The Hex Tour Soft is one of those golf balls that fall in the cheap golf ball category. It's not popular but houses some of the best features you'll find on other Callaway golf balls.
By the name, it features the signature Callaway dimple aerodynamics, which helps it produce lower spin from the tee.
A 3-piece golf ball with a high energy core, the Hex Tour Soft is suitable for players struggling to stop their short irons on a green or those looking for enhanced distance and extra layer of performance.
This low compression golf ball is a good option for golfers with average swing speed.
Feel
If you want to have great control over your golf ball, you need to choose one with a nice feel. Some golfers even prefer golf balls with better feel over those with greater distance.
Fortunately, the Hex Tour Soft Golf Ball comes with a responsive Surlyn cover, which gives it an excellent feel. Although you won't get tour level performance on the ball, the feel is comparable to some of the best you'll find in the category of cheap golf ball.
The Chrome Soft, on the other hand, can give you tour level performance around the green, if you're ready to pay the expensive price tag.
Durability
The Hex Tour Soft is one of the most durable in this price range. The core of the ball is made of Polybutadiene, a strong material that is not only resilient but also resistance to low temps. The result is a sturdy, long-lasting golf ball.
Distance
The core technology of the ball gives it a good resistance to wear and tear without compromising on flexibility. Callaway states that the Hex Tour Soft is designed for more distance and a boost in ball control.
The ball is targeted at those who're looking for straighter and longer shots off the driver. With a soft feel, a promise of greater control and higher launch off the tee, this ball is worth a second look.
Callaway Chrome Soft Golf Ball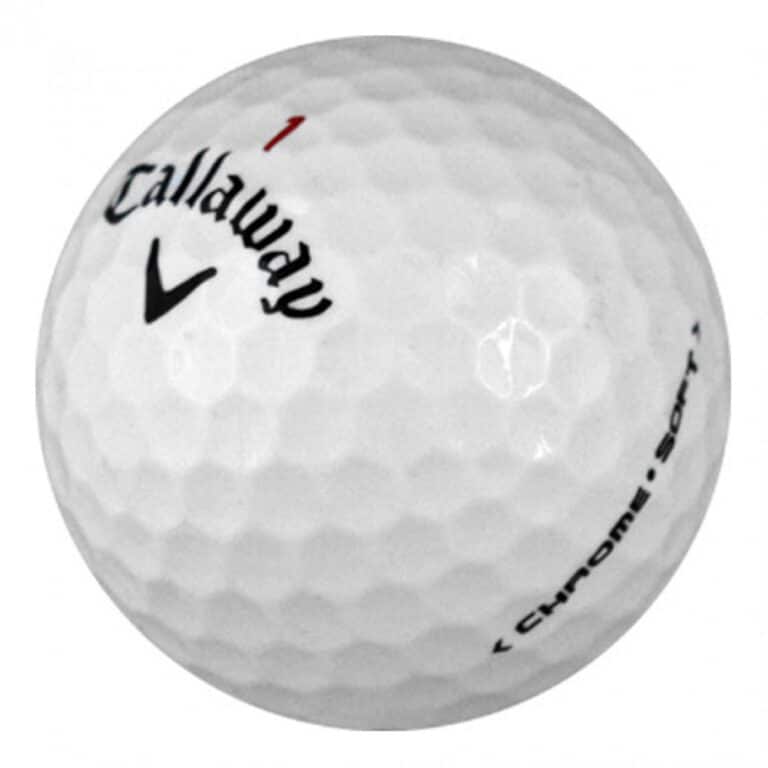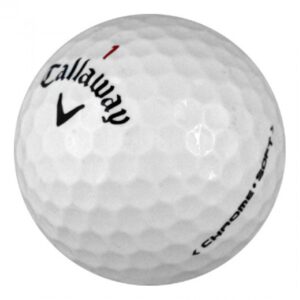 Choosing a golf ball is not an easy task since there are several aspects to consider, such as durability, quality, price, etc.
Besides, with so many options available today it's more difficult to choose one that suits our needs.
Therefore, it is best to purchase a high-quality golf ball that is versatile for all types of players, and one of the most versatile golf balls available today is the Callaway Chrome Soft Golf Balls.
Durability
These golf balls are tough and just as durable as the best premium balls on the market. They can withstand the wear and tear of constant use and remain in top condition. In fact, they are more likely to be lost while playing than damaged.
Construction
Callaway has innovated in the design of the Chrome Soft Golf Balls with a dual SoftFast core, which is composed of two cores, a very soft and firmer outer core.
The softer inner core allows the ball to reach more speed and go farther, which is ideal for slower swinging players.
And the outer, the firmer core, offers exceptional control.
Besides, the ball is made up of four layers the first layer is a thin cover that covers the two layers of the cores, and an outer layer made of urethane, which makes the ball have a soft feel.
Distance
Thanks to their combination of soft and firm cores, these golf balls can reach the same distance as other high-quality balls. Besides, Callaway has also improved the aerodynamic design by reducing drag, which allows the ball to have a better flight and a straighter trajectory.
Spin
Callaway Chrome Soft Golf Balls are mid-spin balls.
However, the urethane outer cover allows for more control over the ball and generates low spin on harder shots and high spin around the green.
This makes them an ideal choice for both mid and high handicappers, as they can reach good distances with great accuracy.
Hex Tour Soft vs Chrome Soft: How they Compare
One of the major differences between the Chrome Soft and Hex Tour Soft is in the build. While the Chrome Soft has a 4-layer construction, the Hex Tour Soft is only 3-layer.
It's clear that the Callaway Hex Tour isn't a premium golf ball like the Chrome Soft. And it's no secret that it is a low compression golf ball. The advantage of the lower compression is more distance and softer feel for you.
However, if you're looking for more control, then the Chrome Soft is better. This isn't to say that the Hex Tour Soft doesn't have it's own advantages over the Chrome Soft.
For example, the outer layer on the Chrome Soft is made of urethane, which makes it less sturdy than the Hex Tour Soft Surlyn cover. In essence, you'll get more durability with the Hex Tour Soft along with lower price.
However, you can expect the Chrome Soft to provide you the spin you need to stop shots around the greens quickly, if that's what you're looking for.