Do you find it difficult to choose between Caddytek and Clicgear? If you answer yes, then you're not alone. Golfers, like other sportsmen, know good brands from bad ones.
This is a good thing and allows them to choose the best and right brand for their game. However, you can end up with two good brands and unable to choose between them.
This is why a lot of people considering Caddytek vs Clicgear have deemed them two good brands but simply find it difficult choosing one. If that's you, then this article is written just for you.
I've decided on Caddytek EZ Fold and Clicgear 3.5+ Push Carts (from both brands) as a case in point in this article. I'll review them and compare them so you can see an example of our every brand makes its product and how it might be unique from others.
In doing this, I'm hoping you'll come out with a resolve on just one of them.
---
Caddytek vs Clicgear: Who Makes Better Golf Push Carts?
Caddytek EZ fold 3 Wheel Push Cart Review
The Caddytek EZ fold is one of the reigning golf push carts on the market right now. It's packed with lots of features golfers everywhere want to see on their golf cart.
When unboxed, you'll be met with a cellphone holder, a bungee-cord bag strap, a strapless upper bag holder, a random junk compartment, and a lot more features. It's also a quality build, easy to assemble, and quite lightweight.
And in terms of price, it's reasonably priced. As you'll soon see in the following paragraphs, there is a lot to like about this cart and only a few things to hate about it.
Weight
The CaddyTek 3 Wheel Golf Push Cart is only 18.5 pounds, which makes it a lightweight and compact pushcart. Majority of those who've used it never complain about it being a burden.
It should be fairly easy to lift in and out of your car or truck and hurl onto the garage floor. Don't be deceived though. It's very durable and well constructed.
Even though it's not heavy, you should expect this to last you a very long time. And considering that this isn't a small investment, anticipating its longevity isn't a bad thing.
Wheels
There are three maintenance-free wheels on this cart. These all come with ball bearings that facilitate smooth cruising through tough terrains.
Nothing is worse than having bad wheels on your golf cart when you're trying to make way through the greens. It can be frustrating when you can't even control it or find no balance when you really need it.
The other feature is the front wheel alignment mechanism which can turn ordinary pushing into a fun one.
As you move through different terrains, the mechanic shifts suspension angles, enabling the wheels and axles to move in the same direction. This results in faster movement, even if you're carrying all your golf equipment in it.
Also, pulling this one way or the other shouldn't cause any issue. And the front wheel flips around and stays cuddly around the front edge to make way for easy storage.
Another fun fact: It is removable…enjoy trouble-free storage. You need to be careful though when operating this. Some users complained that the front wheel gets stucks behind the upper clamps where the bag is placed.
Some users have also reported the wheels gliding smoothly, with no noise accompanying the movement. The tires are also airless, meaning you'll experience zero flats, so no air compressor is needed.
Size
This review will definitely not be complete if I don't mention the size. And that's because it can be a deal-breaker. The CaddyTek 3 Wheel Golf Push Cart is 28.4 inches in height, 14.4 inches in length, and 5 inches in width.
It folds into a compact size, thanks to the one-click folding mechanism unique to CaddyTek. However, this foldable golf push cart is in no way small.
Durability
CaddyTeck is a reputable brand known for the quality of its products. This is obvious in the construction of this cart. The EV V8 is held by light but a strong aluminum frame.
Unlike metal, this doesn't rust so you can enjoy it for a long time to come. The handles are adjustable for ergonomics while also padded for comfort. You can click the handle around to suit different pushing positions or until you're satisfied with your grip.
The brand knows that each golfer has personal preferences so it made room for customizations.
Assembly
When you first look at the product and the instruction booklet, you might think it'll take you a long time to put together. However, many users reported as little as 15 minutes to set up everything.
Of course, you may get stuck at some stage on your journey from unboxing to completion. What you need to know is that there are actually few complaints from previous owners when it comes to fitting everything together.
If you can't put it together with the instructions like many have done, you can search online for how-to videos on how to put it together. The product is quite popular so you should have a generous option to choose from.
Read: Get the Best Driver for Low Swing Speed
Design
When it's fully constructed, the cart may look fragile. But trust me, going through other reviews should convince you otherwise. Aside from packing a lot of accessories, the CaddyTek Caddylite EV V8 has a whole lot of attachments.
It has that regular foot brake for golfers that works in rough territory. A small coat pocket for storing small items is located at the back while a cooler is suspended close by for keeping your cup and other necessities.
In the upper section, you'll find the bag holder with solid rubber grips in it. When you get your bag up and ready to move, the sturdy bag holder will accommodate it easily.
Have a rangefinder you're taking with you?
The cart has a large mesh pocket to hold it. This is actually a blessing because you'll now have your range finder at a close range compared to when you have to rummage your bag for it. Now is the time to get a good round and no more lag.
If you have a ball marker, there is a magnetic spot in the front where you can store it. You can keep up to three tees and the scorecard section will hold your balls.
There is an umbrella holder included too, but some users complain they don't last long. Still, it's better to have one than having to buy one from scratch as you do with other brands.
Verdict
This is one of the best-selling golf push carts now. And it's for a good reason. It's a high-quality cart that's well constructed. It's durable and is not too expensive when you compare it to other similar models.
Check Price & Reviews on Amazon
---
Clicgear 3.5+ Push Cart Review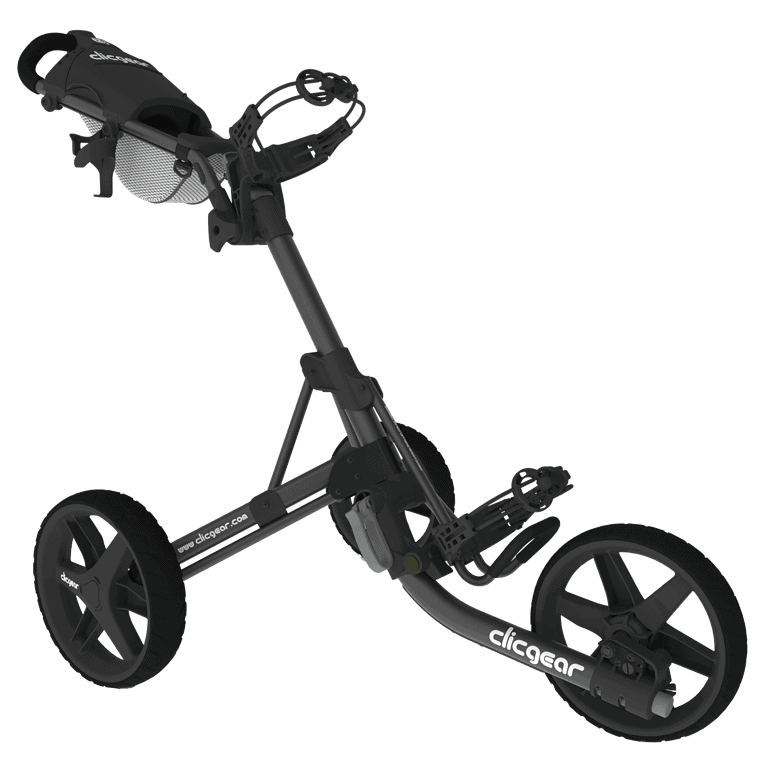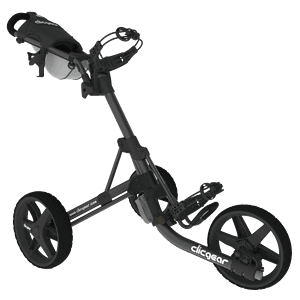 The Clicgear 3.5+ Push Cart was introduced in 2013, to succeed the first one in the range.
While it carries along with features from earlier models, it's more durable, adjustable, and can be operated with a larger number of accessories.
While extras can make your life easier, you can still do well without any of them.
This is one of the successful pushcarts by Clicgear. And this model comes with a lot of design improvements. Many of these improvements aren't just beneficial when you're on the course but also while you're folding your cart to keep during the off-season.
So, with the new design, you can expect a carriage that's easier to use and harder to break.
New Improvements
The cargo net storage (located between the bag holder and handlebar) in the previous model has been expanded, making way for more space. It's 80% larger than the previous 3-wheeler. A resulting benefit is that the 3.5 version will accommodate more golf accessories.
The new design comes with what Clicgear terms "Easy-Clic Bag Strap System" specifically designed for holding your bag.
The strap system is adjustable so it can easily make way for your bag and expandable so "any bag" can go into the cart, simply and conveniently.
To ensure golfers using the Clicgear can store their beverages, the original cup holder has been yanked from the design. A new improved, lighter, and adjustable one is now added; the brand calls this the "Cup Holder Plus".
This will ensure stability for cup and beverage bottles you take along with you. This is a welcome improvement for those who push their carts around slopes and crooked paths.
With all these improvements, you'd think that that's all there is to it. However, you can further enhance the functions of the cart by purchasing additional attachments to make your life easier.
For instance, you can get a shoe brush from the company to remove mud from the cart or a screwable knob that sits on the handle gear for one-handed steering.
You can even get a wall mount to hang it on the wall when you don't want it to take any space in your automobile.
The above is a summary of the new improvements in the cart. Now, let's look at them in details:
Storage
Umbrella is a crucial part of the collection of any serious golfer. Fortunately, the cart comes with a provision for storing and keeping it safe for you. With the new umbrella storage clip, you get a better grip on your umbrella.
This will also have a visible effect on your convenience during all rounds and most importantly, it can prevent unwanted loss of your umbrella to a sudden gust of wind.
Wheel
Although the wheel may not be one of the central deciding factors for your purchase, it can actually make or break a deal.
If your terrain to the golf course is smooth, you may not even worry about this. However, if you have a rough path, you definitely want to consider the wheels. Moreover, the kind of wheel on the cart may also affect the load-carrying capacity.
If the wheels are not strong enough, it may lower the capacity. In addition to that, the pivot system on the cart can have a positive/negative effect on the comfort of the driver.
If the tires are sturdy, you'll need more pressure to push the cart and vice versa. Finally, when the wheels are durable, they will definitely last much longer.
Portability
If you have a lot of space in your garage or car, you can choose from a wide variety of golf carts. But when you don't have that perk, what happens? You try to get a small golf push cart but one that's functional.
So, if you don't have the luxury of space, the 3.5 Clicgear is surprisingly a good option. When folded, it coils into a small mound that takes little space in your storage space.
When placed in your trunk, you can pack a lot of other items with it, which shows how compact it is.
Brake System
The brake is the central crux of the pushcart system. It's anchored with new gear and a hammer that improved the operation of the brake mechanism such that there is less stress on the cable. This ensures the brake system is effective when applied and also lasts longer.
The brake system has seen significant improvement, which means halting the cart while in motion is now a simple process and less likely to cause any mishap. In addition to that, a new cable anchor has been added for longevity and durability.
Ease of Use
When it's up and running, attaching your bag is quite easy. It'll tightly secure it so it doesn't spring out while you're on the move. The extra space it provides also ensures you can keep your food, beverages, cellphone, car keys, and other accessories you want to use on the field.
You have lots of color options to choose from too so you can make it as unique as you want. You can equally select from a large number of additional add-on items to add to the performance of the cart.
Construction
The Clicgear 3.5 is made from a big aluminum tube, making it a sturdy and durable golf pushcart. The frame is said to be aircraft-grade, which means it doesn't break easily and will definitely last a very long time.
And you know what? When it brakes then the cart becomes unusable. Fortunately, that shouldn't happen with this cart.
Aside from that, there is another benefit for the frame being aluminum. Not only is it scratch-proof but also doesn't rust, unlike metal. This further buttress the longevity of the unit.
For me, I like that something lasts a long time, even if I have to pay more initially. In a few years' time, I probably would have forgotten totally that I spend this much.
Verdict
One of the downsides of this unit is that it's quite expensive. You pretty much have to be someone who wants to use it regularly to spend this much on it.
In addition to that, the folding/unfolding mechanism has a learning curve to it. You have to spend a little time tinkering with it until you master it, which is a smooth sail after that.
Some users also complain that the cup holder is not big enough to hold actually hold a cup. This means that many of the disposable cups might not go well on it.
This is a disappointment since one of the advertised benefits is the ability to go to the greens with your beverages along with you.
---
Caddytek vs Clicgear: Comparison
One of the major differences between the two carts is the price. The Clicgear is more expensive than the CaddyTek Caddylite. Prices may vary though, depending on where you're buying.
In terms of weight, both pushcarts are similar. In essence, you shouldn't see any difference whichever you go for when you contrast them in terms of weight. In terms of the brake system, the Caddytek features a press-to-brake mechanism while the Clicgear cart has a hand-parking brake on board.
While the Clicgear is magnified with features like cushion padded grips and handbrake, the Caddytek cart is enhanced with an integrated cooler, umbrella, and beverage holder.
Need Balls for Your Game? Read: Understanding the Golf Ball Compression Chart