There are thousands of golf balls out there but you can use them all. However, there are specific brands that have done well over the years. Not only can you trust the balls these brands make, but also the confidence they can help you build.
Two of these brands are Titleist and Bridgestone.
I'm sure you've already heard about them both. If not, then they are solid brands to look at when you're looking at getting new golf balls. In this article, I'll look at their popular golf balls and how they compare.
If you have been unable to settle down with any of them, this article is written for you.
---
Bridgestone E5 vs Pro V1: Reviews & Comparison
The most significant difference between the two is that the Pro V1 feels more premium than the E5. However, they're both designed to give you more control and distance around the greens. However, in terms of price, the Pro V1 may be more expensive.
Bridgestone E5 Golf Ball
The Bridgestone E5 was first introduced several years ago as a 2-piece construction ball. It's engineered to offer more control and high flight. This is due to having a high spinning tour cover and two-piece construction.
The main feature of the E5 here is that it's a long ball and has a soft landing. You should be getting a reasonable distance out of it.
All balls have their advantages. And some won't reveal all until you try them. You also have to know and understand what you're looking for. This is because a ball can carry a specific feature you need now and lack many others.
Design and Technology
The E5 golf ball comes with Bridgestone's Dual Dimple Technology. This design maximizes the inner and outer elements on the balls to create high aerodynamics during launch and descent as well as better distance.
The E5 is the first in the series and the first to take the urethane cover and the large gradational core, which forms the 2-piece construction of the ball. This design is aimed at producing a softer feel and improved distance.
In Golf Digest's Hot List, the E5 takes a gold medal, which means it is doing its job well. If you're a golfer with moderate swing speed, you may want to consider this ball with its distance, soft feel, and spin around the green.
Who is it for?
The ball is suitable for golfers who want superior spin and control at a reasonable price. According to several tests, the E5 actually delivered not only high spin but also better distance.
The E5 is a good option if you have a low trajectory. The reason is that it's a higher launching, a high spinning ball that'll bite around the green.
Feel and Spin
The E5 isn't as soft as its newest sibling, E6. However, it offers a firmer feel and a good response to the putter. However, it's hotter off the driver. In a test done during a short game, the E5 is found to have the highest spinning of all balls in the e series.
The E5 offers high spinning coupled with a budget price.
Durability
Another thing is the great durability of this Bridgestone golf ball. It's clear that Bridgestone has strived hard to ensure the ball doesn't shred easily and that's evident in a lot of tests involving the two balls.
The E6 is not your regular tour ball but is as good as the premium ones out there in this section.
There are many more to say. But the crux of the matter is that the Bridgestone E5 is well made, sturdy, and built to last long. So, whichever you go for out of the two should serve you well…and that's if they don't get lost on you.
---
Titleist Pro V1 Golf Ball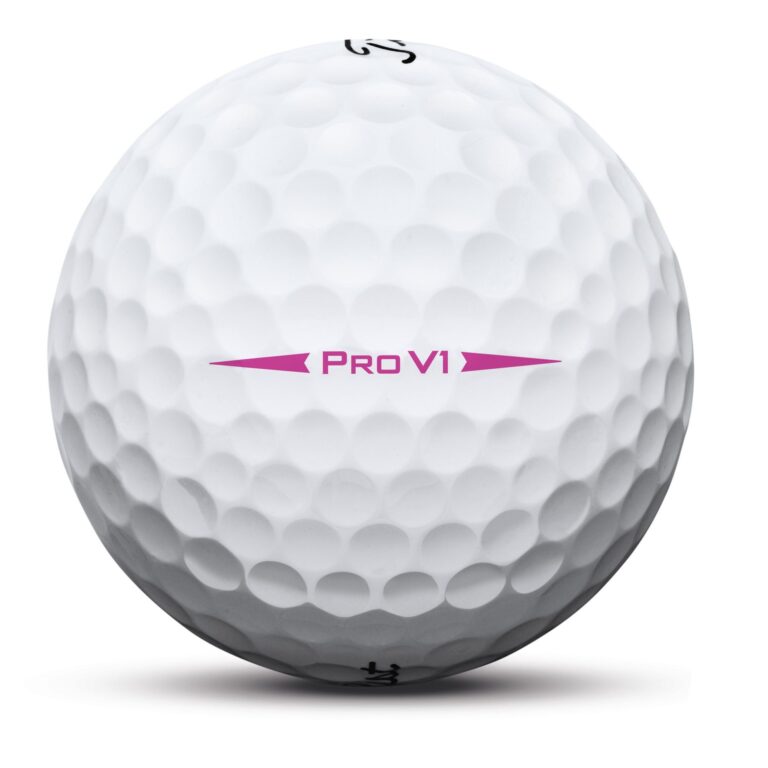 Titleist Pro V1 Golf Balls promise to give players a penetrating, consistent flight, a softer feel, and improved performance.
Whether you are an amateur golf player or a professional one, you will definitely find Pro V1 balls to be one of the best-performing and consistent models on the market.
So, what are the special features and key technology in this model?
The key technology in Titleist Pro V1 Golf Balls
Pro V1 golf balls feature a new, cast urethane cover, a reformulated core, and a faster high-flex casing layer.
The solid 2.0 ZGProcess core helps deliver increased distance, whereas the softcover increases greenside speed offering more control of the ball.
The special dimple design of this model, featuring a 388-dimple layout can maximize both covered distance and flight consistency.
The company has a reputation in the field of golf balls equipment and uses advanced technology to manufacture new golf balls that are the best performing so far.
Benefits of Titleist Pro V1 Golf Balls
Undoubtedly, the most noticeable feature of this model is the advanced cast urethane cover that enables golfers to maintain more control in the short game.
The aerodynamic dimple design of this model is another great benefit since it can help golfers of every level of experience to deliver some impressive and consistent hits.
In fact, consistency from tee to green is one of the most important selling points for Pro V1 balls. Whether you are last year's golf champion or a newbie in this hobby, you'll be able to execute the same type of shots each round.
This model comes in a variety of colors and plays numbers, and golfers can fully personalize their ball by choosing their preferred color, number, or logo.
There is also, a new enhanced alignment version, featuring lines on each side for numbers 1-4.
Choosing the newest Titleist Pro V1 golf ball promises to increase your game's performance and help you win each round. Those golf balls allow users to fully control their shots and gain significant distance.
Related Posts: