Here is one equipment that not all golfers are known to use. Many traditional golfers trust their instincts to measure their distances, while some use assistants or their caddies to do it for them. Since golf is an evolving game, many golfers are now embracing the latest technology to improve their games; and when something is as convenient as a rangefinder, then most readily go for it.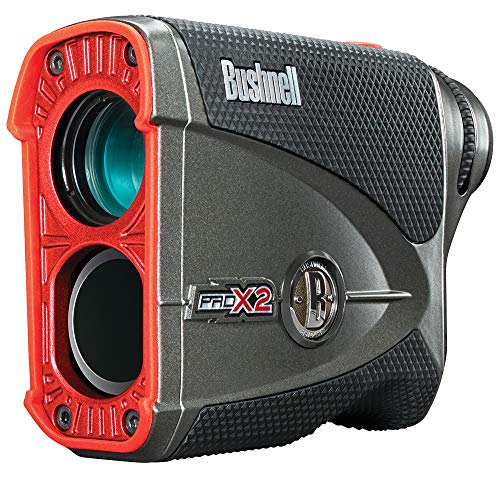 Reviewers have praised the Pro X2 for its excellent features and
high durability
. In our review, we highlight some features that help it to stand out from the rest.
JOLT Technology
The new technological feature that sets it apart from others is the capability to isolate the exact target up to 450 yards away. During sunny and dim days, the golfer can use the dual-display feature to toggle between bright red and crisp black display. Lighting conditions play an essential feature in the game, and it is essential to view the numbers accurately.
Gunmetal Finish
The looks of the Bushnell pro x2 rangefinder is probably the best reason to buy. The gunmetal finish gives it a clean and sophisticated look.
Built-in Slope-switch Feature
One of the best features is that the rangefinder calculates the uphill and downhill yardage for the shots and not just the straight measurements. The feature is beneficial during practice shots because it is not allowed during official games due to which players have to put the feature off. To adjust the slope feature, you have to switch the Pro x2 logo at the side of the device.
Pros
Cons
The device is water-resistant due to the armored metal housing structure

 The device is convenient and easy-to-use, almost saving long-distance walks

 The display reaction is quick, avoiding mid-game delays

 The magnification is 6x closer helping the golfer get a better view of the game

 With its Extreme Speed and Protection technology, the Bushnell provides readings from 125 yards away- five times more effective than others in the market

 Some golfers find the Bushnell a bit heavier than the other rangefinders in the market

The price point would detract amateurs and mid-budget golfers

 The device doesn't have a mounting option – it needs to be handheld
The rangefinder is a useful tool that lays out your relationship with the green. No matter what the obstacle between you and the pin, Bushnell Pro X2 has the technology and the capability to provide exact information about the shot you are supposed to play. If you have tried the Pro X2, then let us know about your experience in the comments section below.